Office of Communications
The mission of the Jackson School of Geosciences Communications Office is to help build and enhance awareness of the Jackson School and its units and increase the understanding of the value of geosciences and their benefit to society.
We work to accomplish this goal through a variety of tactics, including press releases, media outreach, social media, school publications and strategic marketing.
At the heart of these efforts is the research, work and stories of the school's students, faculty and scientists. If you have a story you would like to share, or would like to speak with someone about communications, please contact one of the members of the school's communications office listed below.
Staff
Anton Caputo
Director of Communications
Anton oversees all communications and media relations at the Jackson School of Geosciences. Before joining the Jackson School in 2014, Anton had a career as an award-winning journalist specializing in energy and environmental issues, with stops at newspapers in Washington State and Florida before finally moving to Texas to work at the San Antonio Express-News. Directly prior to joining the Jackson School, Anton was a senior communications specialist for the Lower Colorado River Authority specializing in water and drought issues. He is a graduate of the University of Oregon School of Journalism.
Email: anton.caputo@jsg.utexas.edu
Office: 512- 232-9623
Cell: 210-602-2085 (call or text)
Monica Kortsha
Science Writer
Monica tells the story of research at the Jackson School. From press releases, to feature stories, to blog posts and tweets, she communicates across a variety of mediums to share scientific findings from the school with the community here in Austin and across the globe. Before joining the Jackson School in 2015, she worked as a feature writer at UT's Institute for Computational Engineering and Sciences, and reported on science and research for a local online news outlet. She is a UT alumna, earning undergraduate degrees in biology and journalism.
Email: mkortsha@jsg.utexas.edu
Office: 512-471-2241
Laura Martin
Designer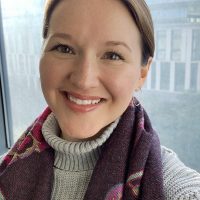 Laura manages the Jackson School's visual identity. She creates graphics and layouts for internal and external communications, digital and print media, press releases, and social media, and maintains the Jackson School's logos and branding guidelines. Originally from Sonora, Texas, she is a graduate of Texas Tech University and is currently pursuing a master's degree in advertising from the Moody College of Communication at UT.
Email: lmartin@jsg.utexas.edu
Office: 512-232-8052
Members of the media looking for information on the Jackson School or expert sources should contact communications director Anton Caputo or science writer Monica Kortsha at the contact information above.
Resources