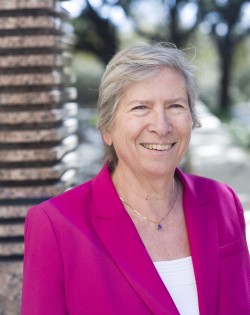 Editor's Note: This is part of a series of Q-and-A's with UT's deans. This interview has been edited and condensed. Sharon Mosher has been dean of the Jackson School of Geosciences since 2009.
The Daily Texan: Can you tell us a little bit about the school and some of the interesting projects going on right now?
Sharon Mosher: A little bit about the school:  We have one academic department and two major research units. Two-thirds of our school are research scientists. One-third are faculty and students. We are the largest academic geoscience program in the country. We graduate the most geoscience students at every level. We work on everything from the core to the atmosphere and also the planet. We work to increase students' knowledge. We get them involved in internships so they can see what practicing geoscientists do. We even involve undergraduate students in research projects. By doing research, they learn how to solve problems and think quickly. We have a lot different projects going on. A lot of people working on the Texas drought. Everything from soil, soil moisture, interaction between land surface and atmosphere, rivers and river flow. We have large programs in Antarctica and also in Greenland.
The Daily Texan, Feb. 25, 2015
Featuring: Sharon Mosher, Dean, Jackson School of Geosciences