For Employers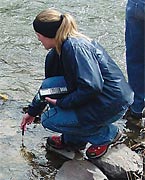 Thank you for your interest in recruiting students and graduates of the Jackson School of Geosciences. Through the JSG Career Center, employers can connect with our students in a variety of ways. We host a major career fair specializing in geoscience, environmental and energy each fall semester followed by on-campus recruiting (OCR). In the spring semester, we host Employer Spotlight Days where employers can highlight their company and interview if they choose.
The JSG Career Center follows the NACE Principles as well as NACE's guidelines for making offers to students.  We are happy to answer any questions about NACE guidelines and policies. If you're considering hiring an international student, please read this document from the university's International Student Office An Employer's Guide to Hiring International Students.
JSG student organizations are eager to invite employers to sponsor a meeting and present a technical or informational talk or employers may choose to host a Lunch and Learn event in one of our conference rooms. For more information on student organizations within the Jackson School of Geosciences, click here.
Please call Maurine Riess or Jennifer Jordan to discuss or schedule events to connect with our exceptional students at 512-232-7673 or 512-232-0893 respectively.
Our career management system, Career Connections, is available for you to post jobs and register for events.

Career Connections for Employers