2022 Advancing Excellence
Longhorns Terry and Elliott Pew Want to Help the Jackson School Take Research to the Next Level

When Elliott Pew came to the Forty Acres as a young graduate student in 1978, an early experience conducting research helped him realize that he was somewhere special. The research involved interpreting a grid of seismic lines recently shot in the deep- water Gulf of Mexico. The grid stretched from Florida to Mexico to Texas and was shot on a research cruise by the geophysics arm of the University of Texas Marine Science Institute (now the University of Texas Institute for Geophysics).

To interpret the data, Elliott recalls how he and his colleagues would roll long paper records reaching 20 to 30 feet down the hall of the geology building. The view let them see from one end of the Gulf to the other. And the state-of-the-art data brought into view structural and stratigraphic features that had rarely ever been seen before.

"I thought to myself, 'this is like the coolest thing ever!' I was hooked," Elliott said. "I realized at that point that UT is able to give students opportunities for research that other institutions just can't match."

Given the hindsight of a four-decade career as a geologist and geological engineer in the energy industry, Elliott's appreciation of what he gained during his time at UT has only grown. He's spent years giving back to the Jackson School of Geosciences, serving on the Geology Foundation's advisory council and making a series of gifts to the school. Of these gifts, none is more important than his latest.

Elliott and his wife Terry are giving $1.45 million to support Jackson School research. Most of it will be used to support collaborative research projects — with $100,000 set aside for the Jackson School's Rapid Response program, which sends scientists to collect data in the wake of natural disasters before it disappears.

Elliott's career began as a young geologist generating prospects for the old Tenneco Oil Company...
Read More
Dean's Welcome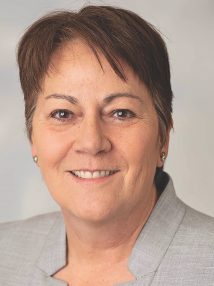 Dear Jackson School Friends,
Greetings from the Forty Acres! As we prepare to kick off another academic year here in Austin, I find myself filled with appreciation and gratitude for the generous support you have shown our beloved Jackson School of Geosciences. The past academic year was filled with some truly remarkable activity.
We welcomed students back to campus, which allowed them to immerse themselves in our important, groundbreaking science and research. I traveled around the country from Denver to Portland, Houston to New Orleans, Austin to Midland and beyond. Being on the road again meant I got to spend meaningful time with many of you, which was refreshing and energizing for me and my team. We successfully launched the public phase of the What Starts Here campaign for the Jackson School and welcomed hundreds of you back to campus for meetings and events. And all of this happened before we even made it to graduation in May! It was wonderful to be back together to celebrate our outstanding students with their families and friends. It felt good to be back to (almost) normal.
We still spent plenty of time navigating the issues the pandemic has caused, but thanks to the ingenuity and diligence of our faculty, researchers, students, and staff, we have weathered the storm. As we look to the fall, I can't help but share the exciting news that 70 freshman students joined us for new student orientation, which translates to one of the largest freshman cohorts in years. And how could I go this long without mentioning that we remain the No. 1 geology program* in the country! We also rose from seventh to fourth in geophysics and seismology, while also being ranked 4th in paleontology (which was previously unranked). It's thanks to donors and alumni like you that we continue to excel and push the boundaries of science, allowing the school the opportunity to recruit and retain the best and brightest students, faculty, research scientists and staff!
In this issue of Advancing Excellence, you'll hear first from our now not-so-new Chief Development Officer, Andrew West, about our record-breaking fundraising year and our ambitious vision. You'll also learn about a prestigious award from the Keck Foundation supporting our own Dr. Ginny Catania's work in Greenland. There is an exciting feature on the impact of individual philanthropy, highlighting a recent gift from Terry and Elliott Pew. And we have a section devoted to our What Starts Here campaign that details key initiatives we are focused on to prepare our students for successful careers where they will create, innovate and lead.
Our job here at the Jackson School is to prepare the next generation of Longhorn geoscientists: to provide them with the skills, resources and instruction that will help them do what we do best here at UT — change the world! Please visit us on campus soon and thank you for all that you do!
Hook 'em!


Claudia Mora, Dean