2016 Newsletter
Welcome to the Jackson School of Geosciences Newsletter. A tradition since 1950, the Newsletter highlights research, news and achievements by Jackson School faculty, students, scientists and alumni.
Features
Alexandros Savvaidis had never been to Texas before starting his new position at the Bureau of Economic Geology. Since arriving in January 2016 though, the native Greek has become very familiar with the large expanse of land within the state's borders.
About 15 miles offshore of Progreso, a beach town near the Yucatán Peninsula's capitol city Mérida, a black and yellow boat called Myrtle stands still in the Gulf of Mexico, dark blue waves rolling beneath it.
Plate tectonics is the dominant geological process on Earth, explaining phenomena as diverse as mountain building and megathrust earthquakes, to the distribution of fossils and living organisms across continents. But fundamental questions remain about how plate boundaries form and persist over geologic time.
Buried deep beneath the world's oceans and Arctic permafrost is a mysterious substance that holds the promise of an enormous amount of energy.
From its humble origins as little more than a visual guide to surface rock formations, the geologic map has evolved into a rich, multilayered tool used by a variety of disciplines. In Texas, the Jackson School of Geosciences Bureau of Economic Geology has been central to that evolution for over a century.
From scanning moon rocks and Martian meteorites to helping solve what killed Lucy, the world's most famous fossil of a human ancestor, the Jackson School's CT lab continues its mission of world-class scientific discovery.
In 1972 The University of Texas Institute for Geophysics (UTIG) began acquiring and processing seismic data in the Gulf of Mexico to better understand its geology.
Dean's Welcome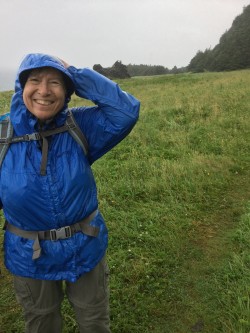 Dear Alumni and Friends,
As you look through the pages of this year's Newsletter, I think you will agree that it's been another exciting and productive year at the Jackson School of Geosciences.
One of the highlights for me occurred this summer when I was fortunate enough to travel to Newfoundland with graduate students on an amazing trip led by John Dewey—a giant in the field of plate tectonics, and someone I have known since my student days. The picture on the Newsletter cover and the photos on this page are from that trip. You can see more and read the students' thoughts on the trip on page 52.
Going to Newfoundland exemplified the foundational geology experience that we provide students. But as we continue this tradition, we are also leading the conversation on the knowledge, skills and experiences that geosciences students need to succeed in the future. In January, I hosted an NSF-sponsored national summit for department heads and chairs on this issue. I also travelled to Mexico in a delegation
with UT Austin President Greg Fenves to discuss strengthening research ties. You can read about both events in the Outreach section (starts page 28).
Our 10-year symposium was also in January. It was a fun and informative gathering that allowed us to look back on what we've accomplished and discuss our vision for the future. We heard from distinguished speakers and a group of Jack Jackson's old friends who discussed how he helped create one of the most prestigious geosciences programs in the world. You can read about the event on pages 28 and 29, and watch it on the Jackson School YouTube page.
I appreciate the positive feedback I received from an external visiting committee that evaluated the school in April, and I'm looking forward to incorporating their advice as we finalize the five-year strategic plan.
The Jackson School was behind many important and high-profile research projects this year—you may have heard about some of them in the news. These include the expedition to take core samples from the crater left by the asteroid that killed the dinosaurs (page 62); and our CT-lab helping solve the mystery of what killed Lucy, the world's most famous fossil (page 85). On a statewide level, our BEG is leading the
investigation into what's causing earthquakes in Texas (page 58).
I am very proud of the accomplishments of our students, researchers and faculty.
Thank you for the support that makes it possible. Enjoy the Newsletter.
Sharon Mosher, Dean
Briefs
Profiles
Field Experiences
Summer Field Camps
Presentations
In the News
Awards & Honors
Alumni Notes