Kerans Heads Department of Geological Sciences
October 13, 2016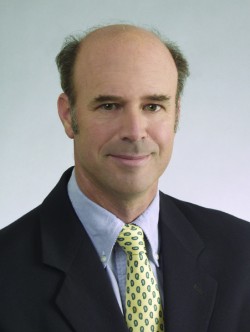 Charles Kerans, professor and Robert K. Goldhammer Chair in Carbonate Geology, is the new chair of the Department of Geological Sciences.
Kerans, a world-renowned carbonate sedimentologist, replaced interim Chair Richard Ketcham in August 2016. Kerans now heads one of the of the oldest, largest and most prestigious geosciences programs in the world.
"It's really a good fit because Charlie is recognized as the very best in the world at what he does," said Jackson School Dean Sharon Mosher. "To have someone of his caliber with his broad knowledge of research and his dedication to students and their education is an incredible boon for the school. I'd also like to thank Rich for his tremendous service to the school and the department."
Kerans has been a part of the department since 2006 when he took a fulltime  appointment as the Goldhammer Chair. But he has been at the Jackson School since 1985, when he started as a research associate/research scientist at the Bureau of Economic Geology. He still holds the positions of senior research scientist and principal investigator in the bureau's Reservoir Characterization Research Laboratory.
Kerans has led the department's carbonate program since he arrived, developing and teaching courses in the graduate and undergraduate programs and supervising numerous students. He is also known for his role in leading the department's field courses, helping give students a hands-on geologic education and valuable experience with the challenges and rigors of fieldwork.
Kerans has won many major awards including the SEPM's Pettijohn Medal; APPG's Grover E. Murray Memorial Distinguished Educator Award; the Jackson School's Walter Award; and 14 best paper and poster awards. "Charlie is a preeminent teacher whether in the university classroom, the corporate laboratory or with colleagues and students in the field," said Bill Fisher, Jackson School professor and Leonidas T. Barrow Centennial Chair in Mineral Resources. "He is widely respected and a great choice for the position."