Preparing for Ice Giant Exploration
October 11, 2016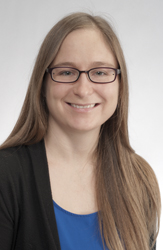 Krista Soderlund, a research associate at the University of Texas Institute for Geophysics (UTIG), is helping NASA plan missions to giant, icy planets, such as Neptune and Uranus.
In February 2016, she was selected by NASA to be a part of the Science Definition Team for Ice Giants Mission Studies.
"Uranus and Neptune are the only two planets of their kind in our solar
system, yet ice giants appear to be the most popular type of planet in our galaxy. In that way, they're an archetype for other planets," said Soderlund, who is also a NASA Early Career Fellow.
"Beyond having the opportunity to contribute to the science community, I want to help make a mission to Uranus and/or Neptune happen."
The team, comprised of 14 members from across the United States and Europe, will address the goals of exploring ice giant systems and the engineering choices that will help accomplish those goals. The team will build upon NASA's decadal survey that outlines goals for the planetary science community over the next 10 years.
"Krista's selection is an affirmation of her scientific gravitas and respect in the field," said UTIG Director Terry Quinn. "This is truly a remarkable achievement for Krista, and speaks volumes about the planetary geophysics program at UTIG."
At UTIG, Soderlund is a science team member for the ice-penetrating radar instrument selected by NASA for the upcoming Europa mission.