Tectonics Legend Leads Newfoundland Trip
October 13, 2016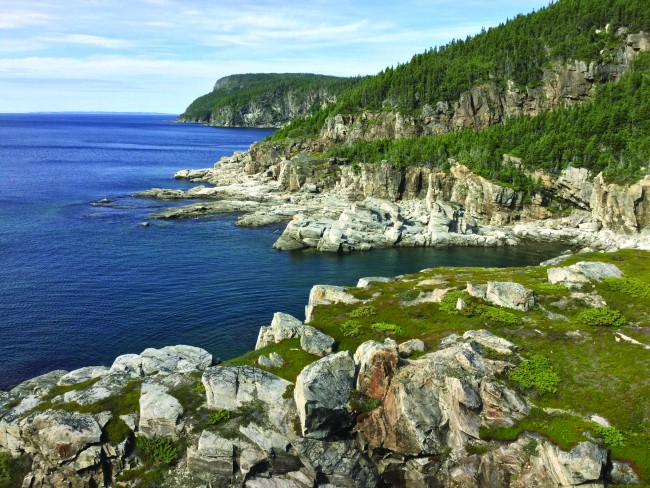 In July 2016, graduate students in the Tectonic Problems course travelled to western Newfoundland to study geology under the guidance of John Dewey, a Jackson School visiting professor emeritus from Oxford University.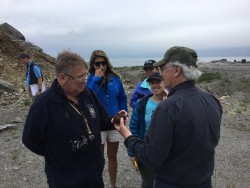 Dewey's field studies in Newfoundland and Ireland in the 1960s led to papers that laid the foundation to how plate tectonic movements explain the geology of mountain belts.
In 1970, Dewey and colleague John Bird changed the field of geology forever with a seminal paper titled "Mountain belts and the new global tectonics." Unravelingthe geology of Newfoundland and the comparison to western Ireland played a pivotal role in their revelations about how our planet behaves.
Since then, Dewey, aided by numerous students, continues to map and unravel the detailed geology of these areas. The spring Tectonic Problems class, with the theme of "Ordovician Arc-Continent Collision and Ophiolite Obduction," spent the spring semester studying the geology and tectonic history of Newfoundland by reading papers by Dewey, his students and many others. The capstone of the class was the summer field trip, which was co-led by one of Dewey's former students, University of Houston Professor John Casey.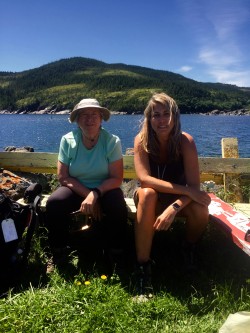 The nine-day trip included visits to about 80 outcrops across the Taconic autochthon, Humber Arm allochthon and Notre
Dame Bay subzone.
"It's not often that you get to visit the outcrops with the people whose study of them led to papers that changed the books," said Jackson School Professor Mark Cloos.
Dewey, a member of the U.S. National Academy of Sciences and a fellow of the Royal Society, has led three field trips for the Department of Geological Sciences.
Two years ago he led a graduate student trip to western Ireland to see the area in which he did his own dissertation studies that led him to visit correlative terranes in Newfoundland. Last year, he took the undergraduate honors students to see the geology of northern England and Scotland, including Siccar Point and the Moine Thrust.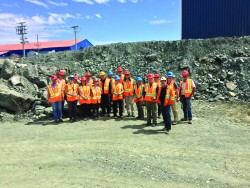 On the Newfoundland trip, in addition to the students, Cloos and co-instructor Assistant Professor Whitney Behr, was Jackson School Associate Dean for Academic Affairs
Rich Ketcham, UTIG Research Scientist Nick Hayman and Distinguished Senior Lecturer Mark Helper. Dean Sharon Mosher, who arranged Dewey's visits to Austin as a visiting professor, also participated on this extraordinary trip.
---
FOLLOWING ARE SOME REFLECTIONS FROM GRADUATE
STUDENTS WHO WENT ON THE FIELD TRIP AND SAW FIRSTH AND THE GEOLOGY THAT WAS CREATED BY PLATE TECTONIC MOVEMENTS UNRAVELED BY DEWEY AND HIS COLLABORATORS:
"Given the complexity of 'the rock's' structures and lithologies, I find it remarkable that the theory of plate tectonics was formed (at least in part) by the work of Dewey and Casey on Newfoundland. That being said, we saw the remnants of the three major types of plate boundaries—from rifted
margin sequences, to relict subduction complexes and major strike slip offsets. It seemed like a complex mess to tear apart compared to younger places in the world that have experienced less orogenic cycles and makes the accomplishments of these geologists even more impressive."
 -Emily Cooperdock
"It was interesting to compare the geology of Western Ireland (the focus of the 2014 Tectonic Problems field trip) to what we saw in Newfoundland. The Clew Bay Line in Ireland separates
Grenville basement, including the deformed Neoproterozoic Dalradian Supergroup, from the South Mayo Trough and the Clew Bay Complex, which represent the forearc basin and the accretionary complex formed during the Grampian orogeny. It is remarkable that with relatively little outcrop in Ireland, and minimal geochronologic data, Professor Dewey was able to correlate the units and realize that Ireland and Newfoundland were both part of the leading edge of Laurentia."
-Stephanie Wafforn
"Since developing an interest in structure and tectonics, I've dreamt of visiting a location as geologically complex, diverse and intriguing as Newfoundland. Having the opportunity to go to world-class outcrops with the two geologists, John Dewey and Jack Casey, that know the area and its history better than anyone in the world made the experience very beneficial to building my skills as an observational geologist. What was most striking in the first few days of this trip was how incredibly tight the tectonic story these two have developed for this region is, especially for Humber Arm Allochton, where units with similar lithologies seem to overlap to the untrained eye. It was something that didn't truly hit me until being out in the field, despite digesting the literature all throughout the spring."
-Travis Clow
The stops compiled by Dewey and Casey provided a comprehensive overview of the field evidence used to reconstruct the regional accretion and ophiolite obduction history, and our boat tour of the ophiolite sequence, in addition to providing our only opportunity to view the metamorphic sole first-hand, excellently placed our roadside stops in context and provided an astounding sense of scale."
-Chelsea Lofland