Behr Wins Donath and NSF CAREER Award
October 13, 2016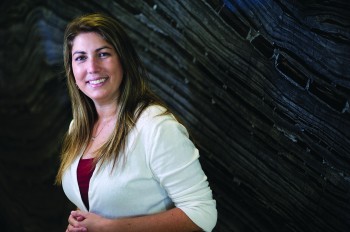 Whitney Behr, an assistant professor at the Jackson School's Department of Geological Sciences, was awarded the Donath Medal from the Geological Society of America and an NSF CAREER award.
The Donath Medal, or Young Scientist Award, was established in 1988 to be awarded to a young scientist (35 or younger throughout the year in which the award is to be presented) for outstanding achievement in contributing to geologic knowledge through original research that marks a major advance in the earth sciences.
The CAREER award is the NSF's most prestigious award in support of junior faculty research. Behr's award will fund a project investigating the rheological properties and evolution of subduction interfaces using exhumed rocks. Behr also received a Jason Morgan Early Career Award from the Tectonophysics Section of the American Geophysical Union.
Behr completed her bachelor's degree at California State University Northridge in 2006 and her Ph.D. at the University of Southern California in Los Angeles in 2011. She then spent 11 months at Brown University as a postdoctoral fellow before joining the Jackson School in August 2012. Behr's research incorporates a variety of field, analytical and experimental techniques aimed at understanding deformation in both active and ancient plate margins.