EER Director: Richard Chuchla
October 12, 2016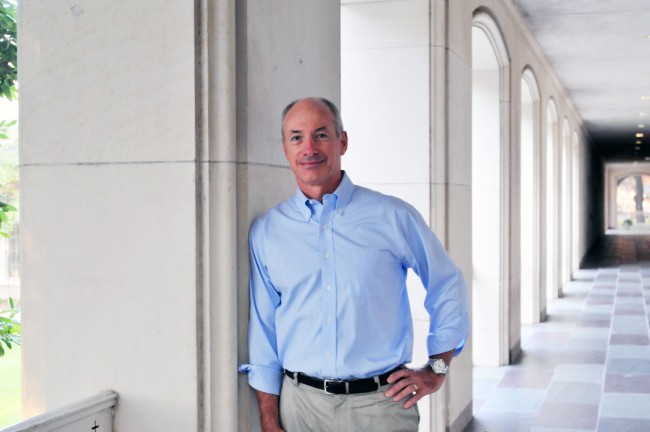 By Monica Kortsha
During his 35 years at ExxonMobil, Richard Chuchla helped find and develop energy and earth resources around the world. A geologist by training, with an undergraduate degree from Cornell and a master's from the Jackson School of Geosciences, he started in base and precious metals, moved to coal, and then oil and gas, working in exploration, development and research.
The assignments took him from Tucson, Arizona—where he accepted his first industry job two days after earning his master's—to Europe, Latin America and West Africa. It was then back to the United States, where he spent the better part of his last 10 years launching ExxonMobil's unconventional resources program including two years at the corporate headquarters in Dallas advising the management committee and CEO.
Just retired from industry, Chuchla is applying his broad experience to his new position as the director of the Jackson School's Energy and Earth Resources (EER) master's program.
"I'm coming back here to continue to learn and share what I've learned with others," Chuchla said. "The fact that I'm able to return to the Jackson School is a piece of good fortune, because if I think about places that I owe a lot, this institution would be at the very top of the list." Although administered by the Jackson School, EER students take classes from across UT Austin's different schools to build expertise in one or more of the following topics: geosciences, engineering, business, finance, economics,
law, policy and the environment. Chuchla was in graduate school when he first met Bill Fisher, the EER director for the past four years. But Fisher said that he got to know him—and his energy and expertise—when Chuchla served on the Jackson School's Advisory Council as the ExxonMobil representative from 2005 to 2016, and on the Bureau of Economic Geology's Visiting Committee for several years.
"We are very, very fortunate to have a guy of the standing and the breadth of Richard Chuchla," said Fisher, who is also a professor and Leonidas T. Barrow Centennial Chair in Mineral Resources. "He's bright, intelligent and tremendously insightful fellow…and I think he will bring to the program great leadership and, more importantly than anything else, a lot of excitement that is contagious to the students and the fellow faculty."
Those who watched Chuchla serve on the Jackson School Advisory Council, particularly during his term as chair from 2010-2013, are convinced he'll excel in the position.
"He was a dynamic leader who helped shape the direction of the school," said Jackson School Dean Sharon Mosher. "I'm thrilled to have someone of Richard's caliber
leading EER."
"Most of what you learn at the end of the
day is from other students or fellow
employees."
-Richard Chuchla
Current Advisory Council Chair Brian Reinsborough agreed. "Richard has expansive experience to bring to the table after serving over 35 years in the oil and gas industry with ExxonMobil in all aspects of their business," he said. "We saw Richard's experience and leadership shine at the advisory council when he was chairman. He will be a great addition to the EER leadership team and a mentor to young professionals."
Richard Kyle, a professor in the Department of Geological Sciences and Bureau of Economic Geology, is also joining EER as the graduate adviser and, coincidentally, was one of Chuchla's instructors and thesis advisors 35 years ago.
"Taking the reins from Bill and working with Rich is a privilege. It's a dimension of the job that made it all the more attractive," Chuchla said.
Chuchla's connection to geosciences stems from his earliest days. The son of a mining engineer, Chuchla was born and spent his childhood in Chile, collecting rocks and fossils in the Atacama Desert and learning about the copper deposits that brought his family to South America from their native Poland.
"I grew up in the shadow of El Salvador, probably one of the most studied porphyry copper deposits in the world, and my best friend was the son of the chief geologist of the Anaconda Copper Mining Company," Chuchla said. "That's how it started."
At ExxonMobil, changes in the market, and new technologies and concepts made for a dynamic business environment. Chuchla said that he was always ready to take on new assignments because each was a chance to learn something new in a different part of the world. He said he feels incredibly lucky to have played a role in starting deepwater oil and gas exploration in Africa, and spearheading the global development of unconventional oil and gas resources, most notably shale.
"I spent much of my last decade of employment with ExxonMobil leading our global unconventional resources effort. It was a wonderful challenge, personally and professionally," Chuchla said. "It made me rethink much of what I had learned and to humbly accept how much of this complex Earth I do not understand. And my team and I had to convince a lot of skeptics in our company that shale resources were going to be a big business. Our only mistake was in understating just how big."
Whether at the research lab or at the exploration company, Chuchla said his leadership involved bringing people together to collaborate—a process that was always critical to success. As EER Director, Chuchla says he wants to promote a similar environment so students can learn from one another.
"I know EER students are here to get their individual degrees, but strengthening the level of interaction and collaboration will make it a more fulfilling endeavor and a more enriching learning experience," Chuchla said. "Most of what you learn at the end of the day is from other students or fellow employees."
Chuchla said that he is looking forward to learning from students himself. It's a great job perk for someone who lives for the eureka moments in life, no matter where they come from.
"It's hard to describe how exciting it is to learn new things," Chuchla said. "Sometimes it's a major oil field you've played a role in finding and sometimes it's understanding something very trivial that was previously nagging at you. When I go home at the end of the day after one of those eureka moments, I feel great."