Shanahan Leading EVS Degree Overhaul
December 5, 2022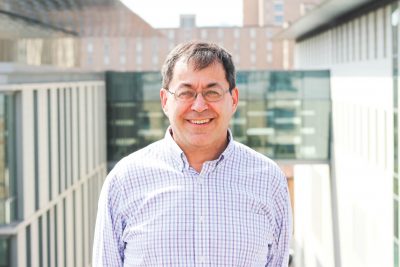 The Environmental Science degree program (EVS) is undergoing a revamp with Professor Timothy Shanahan serving as the program's first director.
Shanahan, a climate scientist in the Department of Geological Sciences at the Jackson School of Geosciences, is focusing on two key priorities: growing the student body, and modernizing the curriculum so that it equips students with the skills they need to succeed in sustainability and environmental careers.
"There's a need for this," Shanahan said. "The idea behind the program is that students have a broad but targeted set of skills."
EVS is the only inter-college degree offered at The University of Texas at Austin. The Jackson School, the College of Natural Sciences, and the College of Liberal Arts share a common core curriculum while each school has its own degree track. The college a student graduates from depends on the degree track.
The program was previously managed collectively by a group of faculty representatives from each college. As director, Shanahan will now lead the group while working to advance program priorities.
Environmental science careers aren't limited to a single sector, Shanahan said. From oil and gas companies looking to reduce emissions, to insurance companies estimating the on-the- ground impacts of climate change, to environmental consulting, the need for environmental experts is growing across industries.
Geosciences students are also increasingly interested in these areas, said Shanahan, who has seen the shift himself over his eight years of teaching GEO 303, Introduction to Geology.
The EVS degree is a way for students to channel that conviction into a career. As sustainability programs grow across UT and other universities, EVS stands out by offering a curriculum rooted in science and oriented toward career development, Shanahan said.
To help update and inform the curriculum, Shanahan has been meeting with companies in the environmental science and sustainability space. He said that some of the most in-demand skills — such as spatial thinking and quantitative reasoning — are skills that form the foundation of a geosciences education.
The EVS program accepted 62 new students in the fall semester, including transfer students, bringing the total size of the program to 201 students.