Resources & Facilities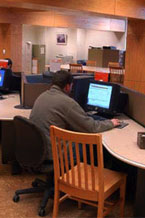 EER students find many of their study materials in the Walter Geology Library, housed on the 4th floor of the Jackson Geological Sciences Building (JGB) that presently includes more than 120,000 book and journal volumes and 47,000 geologic maps, among them the publications of the U.S. Geological Survey, most state geological surveys, and many foreign surveys. EER Theses are found at this location for check out as well as through the university's online system.
UTNet Wireless Access is available to students, faculty and staff throughout the Chemistry Library, Classics Library, Engineering Library, Fine Arts Library, Flawn Academic Center, Physics Mathematics Astronomy Library, Public Affairs Library and the Tarlton Law Library, and in selected areas of the Architecture and Planning Library, Fine Arts Library, Geology Library, Life Science Library, Perry-Castañeda Library, and the Ransom Center. Other Wireless Access Points near campus are also available.