NASA Turns Jackson School Scientist into Comic Book Character
December 5, 2022
A researcher at the Jackson School of Geosciences made an appearance in a NASA-produced comic book that features real scientists and how their research is aiding in the search for life on other worlds.
Cornelia Rasmussen, a research scientist at the University of Texas Institute for Geophysics, appeared in issue 8 of "Astrobiology: The Story of our Search for Life in the Universe," with Rasmussen sharing how scientists use isotope geochemistry to find biosignatures.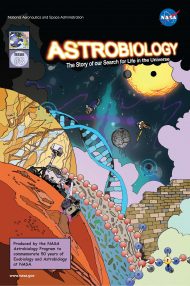 "It shows researchers as real-world role models who are passionate about their work," she said. "And I'll be honest. I loved being a comic book character. That was so much fun!" Joining Rasmussen on the page are UT professors David Hoffman and Eric Anslyn, both of the College of Natural Sciences. All three are members of the UT Center for Planetary Systems Habitability, a research center managed by the Jackson School that is investigating the science of how and where life evolves.
The comic highlights a bio- fingerprinting technique that Rasmussen and her collaborators developed for determining whether a molecule has biological origins. Their method uses stable isotope geochemistry and chemometrics (the science of finding chemical patterns by numerical analysis) to spot isotope ratios associated with life. The technique could be used to look for biosignatures in samples returned from Mars or other interplanetary missions.