Energy Switch Debuts on PBS
December 5, 2022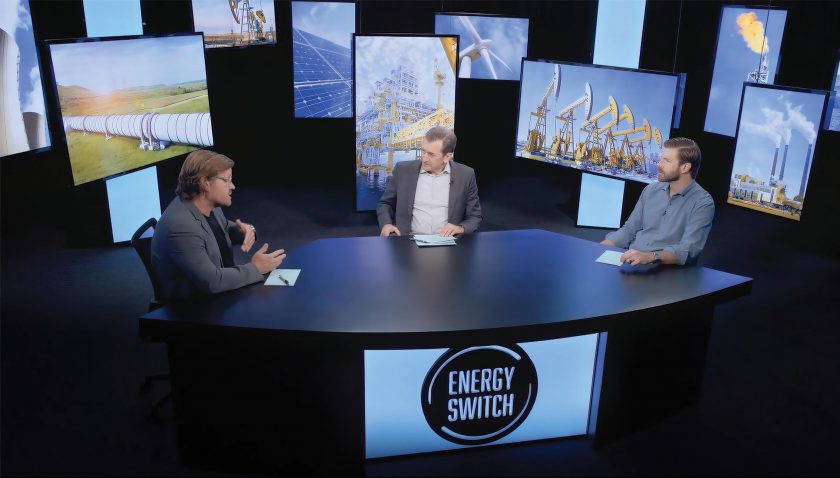 The Jackson School of Geosciences' Scott Tinker is the executive producer and host of a new PBS talk show, "Energy Switch," that brings together two experts on each show to address the biggest questions in energy, climate and the economy.
Tinker, who is the director of the school's Bureau of Economic Geology and the state geologist of Texas, said the goal of the show is to foster and model good-faith discussion and debate.
"The guests don't always agree, and that's by design," he said. "But they model civil dialogue and critical thinking." The name of the show is a nod to the "switch" in tone he hopes the show brings to an often-cacophonous media and political landscape, as well as a nod to the Switch Energy Alliance, a non- profit started by Tinker dedicated to "inspiring an energy-educated future."
"Energy Switch" debuted on Austin's KLRU in September and features 12 half-hour episodes. The show has been picked up by 21-plus PBS stations nationally, including Los Angeles, Salt Lake City, Cincinnati and Dayton,Ohio. It's also available online and will probably begin streaming on key podcast applications in the spring.
The topics covered in the first season range from exploring the potential of renewables to power the world, to the meaning of sustainability, to the future of nuclear, to the relevance of the oil and gas industry in the United States. The guests include national and international energy experts from academia, non- governmental organizations, industry and government, and include former U.S. Energy Secretary Ernest Moniz, Pulitzer Prize winner Dan Yergin, author Michael Shellenberger, and Environmental Defense Fund Chief Scientist Steven Hamburg, among many others.
"Energy Switch" is part of a growing collection of energy media produced by Tinker and the Switch Energy Alliance. They include two feature length documentaries, "Switch" and "Switch On"; a video series on energy poverty; a short film for iMax and large museum screens, "Energy Makes Our World," which is currently in the Houston Museum of Natural Science, the Perot science called Switch Classroom, which was developed with high school teachers nationwide; and much more.
Tinker said that PBS "Energy Switch" is deepening the energy conversation and bringing it to new audiences interested in a nuanced understanding of energy issues.
"I'm encouraged that we're starting to see more thoughtful, reality-based dialogue on energy, climate and other environmental impacts, and economics," Tinker said. "'Energy Switch' is leading the way on that front."
The show is funded in part by The University of Texas at Austin, Microsoft and the Switch Energy Alliance. Season two has already been recorded and will debut in the spring of 2023. Season three is in pre-production. The program is seeking sponsors. Watch the first season: www.pbs.org/ show/energy-switch/