Duffy Awarded Robert Mitchum Award
December 5, 2022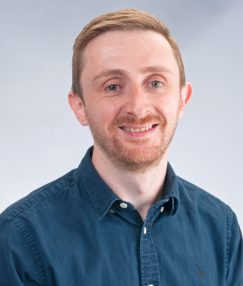 Oliver Duffy, a research associate at the Bureau of Economic Geology, received the 2022 Robert Mitchum Award for a paper published in the journal Basin Research.
Presented by the European Association of Geoscientists and Engineers (EAGE), the award recognizes the author of the best paper published in Basin Research during the preceding calendar year. According to the EAGE, the winning paper "must be of high scientific standard and should represent a significant contribution to one or more of the disciplines represented by that journal."
"The journal Basin Research has long been a key source of literature for me," Duffy said. "To be recognized by that journal, given the quality of the authors who regularly publish there, is a great honor."
The award recognizes the paper "Principles of shortening in salt basins containing isolated minibasins," which Duffy co-authored with fellow bureau researchers Tim Dooley, Michael Hudec, Naiara Fernandez (now at GFZ Potsdam) and Juan Soto along with Christopher Jackson (now at Jacobs Solutions Inc.). The paper was published in February 2021 and appeared in volume 33 of the journal.
The researchers used physical models to examine shortening styles in salt-influenced basins, finding that in settings with isolated minibasins and a high salt volume, shortening — or the squeezing of a region—induces salt flow. This flow of salt contributes to the translation, tilt and rotation of minibasins during the shortening process.
According to Duffy, the paper contributes to the fundamental understanding of salt basins worldwide, with potential application for oil and gas exploration, and energy storage in salt basins.
The award was presented in June 2022 during the EAGE annual conference in Madrid. Duffy follows in the footsteps of bureau research associate Jinyu Zhang, who received the Robert Mitchum Award in 2020.