Bhattacharya Wins Karcher Award
December 5, 2022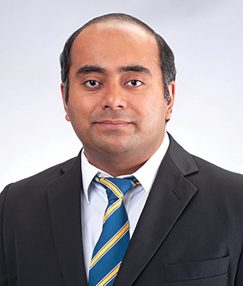 Shuvajit Bhattacharya uses petrophysical log and seismic data to characterize complex subsurface geology and helps identify "sweet spots" in the subsurface for projects, ranging from oil and gas exploration to carbon storage to geothermal energy.
A research associate at the Bureau of Economic Geology, Bhattacharya has been called a "rising star" by the Society of Exploration Geophysicists (SEG). This year, the society recognized Bhattacharya's accomplishments with the 2022 J. Clarence Karcher Award.
The award recognizes people who have made "significant contributions to the science and technology of exploration geophysics by a young geophysicist of outstanding abilities." Recipients must be younger than 35 years of age the year preceding the presentation of the award.
"This award is very encouraging as a young scientist," Bhattacharya said.
Bhattacharya isn't the only Jackson School scientist to receive the award. Former postdoctoral researcher Xinming Wu received the 2020 award. Professor Sergey Fomel received the 2001 award.
Bhattacharya's research involves analyzing borehole petrophysical logs and seismic data by applying and improving on different processing techniques, such as inversion modeling and machine learning, to interpret rock types, mineralogy, and various reservoir and geomechanical properties. His paper "Seismic attribute and petrophysics-assisted interpretation of the Nanushuk and Torok Formations on the North Slope, Alaska" was the most downloaded article of 2020 in SEG's journal Interpretation. He developed a workflow to determine the porosity and fluid saturation and to assess the fluid storage capacity of thin-bedded, low-resistivity reservoirs, which are easily missed due to their subtle expressions on geophysical data.
He is the author of the book "A Primer on Machine Learning in Subsurface Geosciences." He has recently co-edited a book, "Advances in Subsurface Data Analytics: Traditional and Physics-based Machine Learning."
Bhattacharya said that the fundamental knowledge that grounds his research allows him to participate in various applied projects.
"Most projects I'm working on now are applied in nature with real-world applications," he said. "Fundamental seismic and petrophysical knowledge is important to all of them."