Lowery Earns Top Early-Career Scientist Award
December 5, 2022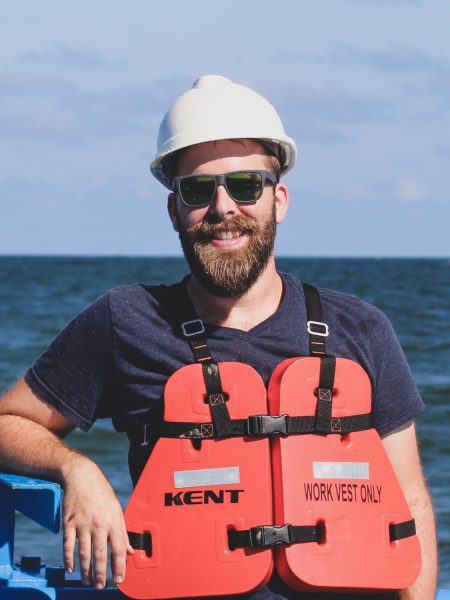 Chris Lowery, a research associate at the University of Texas Institute for Geophysics, has received the James Lee Wilson Award from the Society for Sedimentary Geology. The award recognizes significant research accomplishments by an early-career scientist.
Lowery's work has led to advancements in understanding the environment of Earth's ancient oceans and its marine life. His research has revealed key moments in the Gulf of Mexico's past including the recovery of life after the extinction of nonavian dinosaurs. He is also highly active in the International Ocean Discovery Program (IODP) and recently co-founded a workshop to engage young scientists with scientific ocean drilling.
"Chris has earned national and international recognition, not just for his work as a micropaleontologist and sedimentologist but in integrating these data sets with tenets of modern life science to illuminate global change and to decipher key events in Earth's environment and climate," said UTIG Director Demian Saffer.
Lowery joined UTIG in 2016 as the first Richard T. Buffler postdoctoral fellow, and he soon made his mark mapping a barrier reef system that grew in the Gulf of Mexico over a 100 million years ago.
In 2017, he embarked on the UT-led IODP drilling expedition that explored the Chicxulub crater — the impact site of the asteroid that wiped out the dinosaurs. Lowery found microfossils buried within sediment cores drilled from the crater's peak ring, indicating that the crater was already teeming with plankton and algae just a few years after impact. He published his results in a 2018 Nature paper and followed it with evidence that evolution imposes a speed limit on the recovery of life after an extinction event.
Lowery also helped co-write the IODP's new science framework (a document outlining priorities for future scientific ocean drilling through 2050), and he has co-founded Demystifying the IODP Proposal Process for Early Career Scientists, a series of workshops aimed at guiding early-career scientists through the process of planning their own science expeditions. He is also a regular instructor for the Marine Geology and Geophysics Field Course, a flagship student field experience at the Jackson School of Geosciences.
"I feel like that the very best thing we can all do as scientists is to build up the next generation and pass the torch to them as early and as often as possible," Lowery said.