Sharon Mosher: Dean Emeritus
December 5, 2022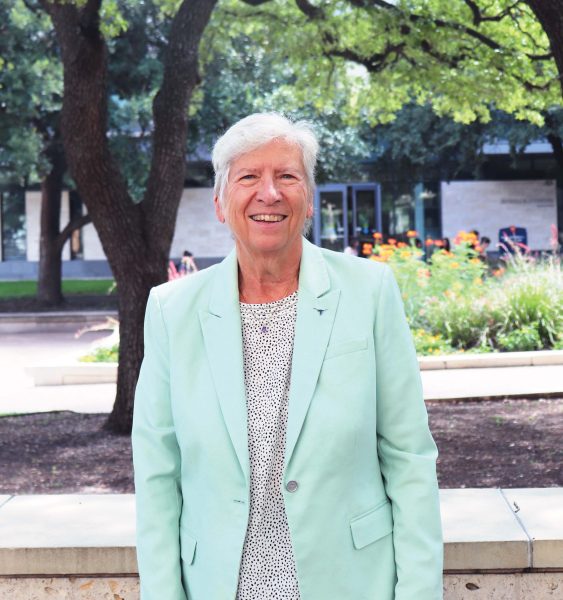 By Anton Caputo
Sharon Mosher's to-do list these days is quite impressive. It includes leading the national effort to revise the geosciences education curriculum, fieldwork and new geologic dating in the Llano Uplift, publishing papers with former students, and mentoring science leaders for the Council of Scientific Society Presidents.
Not bad for someone who is officially retired. When people ask her about it, their reactions are almost always the same.
"They say, 'Oh, are you busier than you ever were?'" Mosher said.
All she can do is laugh.
Mosher, who was on the faculty at The University of Texas at Austin for more than 40 years and served as the dean of the Jackson School of Geosciences for more than a decade, is definitely enjoying retirement, especially having more time to swim and resume kayaking. Yes, she has plenty to do, but she said the workload pales in comparison to her time as dean.
She officially retired at the beginning of the 2021-2022 school year — becoming dean emeritus, professor emeritus and William Stamps Farish Chair in Geology Emeritus.
Since stepping down as dean in 2020, her biggest accomplishment has been to finish and publish "Vision and Change in the Geosciences: The Future of Undergraduate Geoscience Education," which was the culmination of a multiyear effort she led to help align undergraduate geosciences education with the needs of the modern workforce. Within days of going online, the document was downloaded more than 10,000 times in more than 40 countries.
Now she's leading a similar project for graduate geoscience education. The nationwide effort, funded by the National Science Foundation, had its last workshop at Stanford University in August, and Mosher hopes the final document will be out in January. After that, she's vowed that she will not take on any more massive projects.
"She has laid the law down on that one," said Christopher Keane, American Geosciences Institute (AGI) director of geoscience profession and higher education.
Keane has worked closely with Mosher on both the undergraduate and graduate effort over the past decade. During that time, hundreds of academics and industry professionals have been brought in to give feedback, analyze and synthesize data, and prepare and distribute reports.
Keane said it is the type of monumental endeavor — he estimates that 15% of the nation's geosciences faculty have been involved at some point — that could have fallen prey to infighting or died of inertia. But Mosher's vision about the need to update curriculum and the process for doing so was so strong and unwavering that it pushed through all obstacles, he said.
"I think it's a real testament to Sharon's stature in the community that she got over a thousand different people in our community to be very actively involved," Keane said. "Sharon brings a gravitas, so everyone listens."
Mosher became dean in 2009 and spent more than a decade in the role, helping build the school into one of the top geosciences institutions in the world. One of her greatest challenges was binding the school's three diverse units — the Department of Geological Sciences, the Bureau of Economic Geology and the University of Texas Institute for Geophysics — into a cohesive school with a shared identity. As she watched the class of 2022 receive their diplomas a few months ago, she was struck by how much progress has been made.
"It really meant a lot to me that every student walking across the stage said something about what the Jackson School had done for them," she said. "That made me feel so good because when I started as dean, we were really three separate units."
Dean Claudia Mora, who succeeded Mosher in 2020, said that Mosher's ability to build the school and make it a cohesive institution put it in a good position to tackle the massive challenges ahead for the geosciences.
"Sharon is a tremendous asset to this school, and her vision and work to reshape geosciences education for the future is one we should all be proud of," Mora said. "This is such an important time for the geosciences as we seek to address the energy, resources and climate issues that are facing society and, at the same time, make the world understand that geoscientists are essential for finding solutions to these complex problems."
Mosher recently attended a symposium put on by former students in her honor at the Geological Society of America annual meeting in Denver, where she also received the William B. Heroy Jr. Award for Distinguished Service to the American Geosciences Institute. Her immediate plans include working on unfinished research with former students, including a paper on the evolution of the Australia-Pacific plate boundary that has been on hold since she became dean in 2009. She also wants to continue to travel and conduct fieldwork.
Mosher keeps an office in the Jackson School and doesn't plan to leave it any time soon. That means she's available to faculty, students and colleagues who seek her out, but said she makes a point of not getting involved in issues around the school unless she's asked.
"I feel very strongly about the Jackson School, and I care very deeply about the undergrad and grad students, the faculty, research scientists and the staff. I mean, I really do," she said. "The school and the people within it mean a great deal to me, but I know how to let go."
For more on Mosher, see: www.jsg.utexas.edu/news/2019/12/the-dean