Drilling into Dinosaur Extinction
November 2, 2015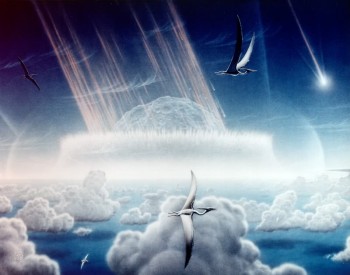 An international research team is formalizing plans to drill nearly 5,000 feet below the seabed to take core samples from the crater of the asteroid that wiped out the dinosaurs. The expedition is planned for spring 2016.
Dinosaurs and other reptiles ruled the planet for 135 million years. That all changed 65 million years ago when a 9-mile-wide asteroid slammed into the Earth, triggering a series of apocalyptic events that killed most large animals and plants, including non-avian dinosaurs and large marine reptiles. The event set the stage for mammals — and eventually humans — to take over. Yet, we have few geologic samples of the now buried impact crater.
Sean Gulick, a researcher at the Institute for Geophysics (UTIG), and a team of scien­tists from the U.K. and Mexico are working to change that. The team is planning to take the first offshore core samples from near the center of the impact crater, which is called Chicxulub after a nearby seaside village on the Yucatán Peninsula.
The team, led by Gulick and Joanna Morgan of Imperial College London, will be sampling the crater's "peak ring" — an enigmatic ring of topographically elevated rocks that surrounds the crater's center and has been buried during the past 65 million years.
By sampling the Chicxulub peak ring and analyzing its key features, researchers hope to uncover the impact details that set in motion one of the planet's most profound extinctions, while also shedding light on the mechanisms of large impacts on Earth and on other rocky planets.
The roughly $10 million in funding for the expedition has been approved and scheduled by the European Consor­tium for Ocean Research Drilling and the International Continental Scientific Drilling Program.
"The sediments that filled in the [crater] should have the record for organisms living on the sea floor and in the water that were there for the first recovery after the mass extinction event," Gulick said. "The hope is we can watch life come back."