Partnership with Mexico Boosts Research Exchange
November 2, 2015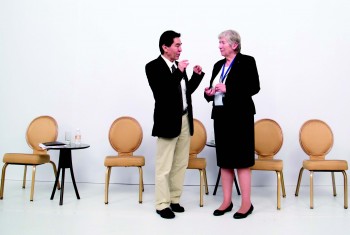 Researchers from the Jackson School of Geosciences attended and hosted events in Mexico in the winter and spring of 2015 to promote research exchanges between The University of Texas at Austin and Mexican universities, and the sustainable development of Latin America's energy resources.
In February a group of researchers from the Institute for Geophysics (UTIG) led by Director Terry Quinn visited Mexico City and met with Mexican scientists from academia, the private sector and public institutions to discuss areas of shared interests such as the deep-water Gulf of Mexico.
The researchers came only a week after the university's then provost, now presi­dent, Gregory L. Fenves signed one of the three new agreements in Mexico City that strengthen collaboration between The University of Texas at Austin and the National Autonomous University of Mexico (UNAM) in the fields of energy, environment and sustainability.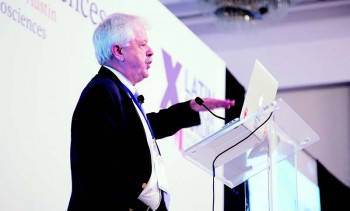 The agreement promotes the mobility of postgraduate students, researchers and faculty between the institutions. It also helps facilitate conferences, symposia, and joint academic programs and scientific research projects to identify and meet sustainable energy challenges.
"The goal of enhancing collaboration between research scientists at UTIG and our Mexican colleagues in academia, industry and government was advanced via this first round of face-to-face meet­ings in Mexico City," Quinn said.
Keeping in the spirit of this agree­ment, the Jackson School hosted in April a Latin American Forum on Energy and the Environment in Mexico City. This event brought together public and private sector decision makers, scholars and scientists for two days to discuss sustainable development of energy resources and environmental issues.
The forum's technical panels were developed with the support and coop­eration of UNAM geoscience research centers and Mexico's professional geoscience societies. Forum panel topics included: the role of public and private research in the oil and gas sector, under­standing and reducing conflicts around water use in the energy sector, plans to explore the Chicxulub asteroid impact site, the future of potential new fuel source methane hydrates, and the impor­tance of building the next generation of geoscientists and engineers.