King Receives Rosenfeld Plaque from Environmental Research Letters
February 28, 2012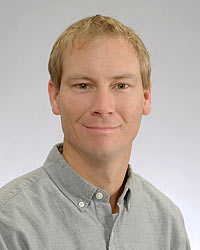 Carey King, research associate at The University of Texas at Austin's Center for International Energy and Environmental Policy, has been awarded the Rosenfeld plaque in recognition of his outstanding work in the field of energy economics published in the journal Environmental Research Letters (ERL).
This one time award was presented to King for his paper titled, "Energy intensity ratios as net energy measures of United States energy production and expenditures." Here, King described a new method to measure energy return on energy invested (EROI) that can be estimated every year, rather than the previous best method which gave estimates at best every five years.
Read a press release describing that work.
The Rosenfeld plaque is a limited edition item, named in honour of Dr Arthur H Rosenfeld, which was manufactured to commemorate a letter published in ERL in March 2010 that defined a new unit to represent energy savings.
To highlight Dr King's work further, alongside this award ERL has published a perspective article written by Professor Charles Hall.
About ERL: Environmental Research Letters is an open access journal that covers all of environmental science, providing a coherent and integrated approach including research articles, perspectives and editorials.