UT Austin Refreshes Texas Drought Tracking Tool
December 2, 2022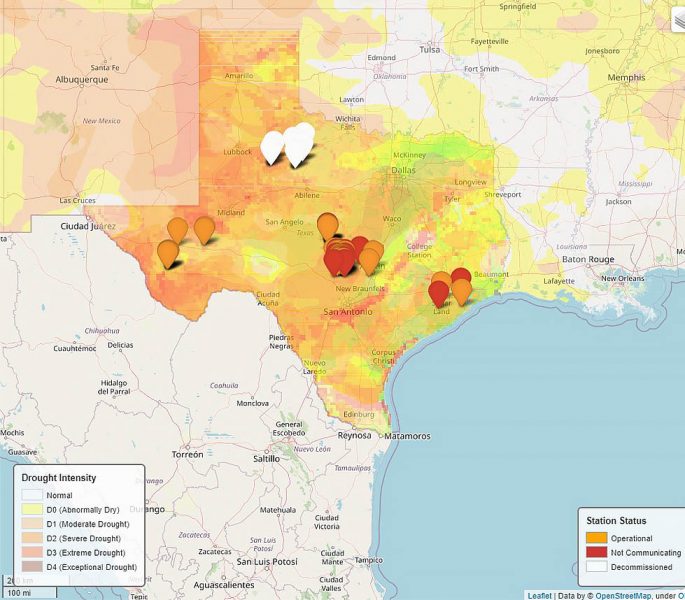 Over the past year, researchers at The University of Texas at Austin have been working to improve the accessibility of soil moisture data collected by a network of monitoring stations known as the Texas Soil Observation Network, or TxSON.
The result is a new web application created by the UT Bureau of Economic Geology.
The site includes an interactive map of Texas showing satellite-derived drought information and the latest on-the-ground soil moisture readings from the 58 active TxSON stations.
TxSON has been collecting data since 2015. According to Bissett Young, a researcher at the bureau who helps manage the TxSON network, the new application presents the network's excellent record of soil moisture conditions from across the state.
"Anywhere there's a station, you can go," she said. "You can zoom in and see what's going on with the soil water data and see what's going on with drought across the state."
Soil moisture is a key indicator of drought and can drastically affect agriculture and livestock. While rain gauges show how much precipitation fell in a region, soil moisture shows how much water is actually absorbed into the ground and potentially available to plants. Soil moisture also can influence flooding risks and whether rain runs off into parched reservoirs.
The TxSON stations provide precise and frequent measurements. Precipitation, soil water content and soil temperature are recorded every 5 minutes at multiple depths – generally at 5, 10, 50 and 100 centimeters – and transmitted every hour. Some TxSON stations are outfitted to take additional readings. Eight stations collect weather data, such as wind speed and direction, temperature, relative humidity and solar radiation. Three stations in West Texas measure water quality and flow at natural springs. These readings are also available on the interactive map.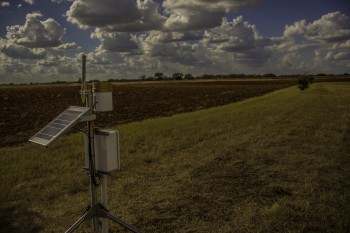 TxSON's measurements provide a snapshot of a few areas around the state. However, these data have an outsized effect when it comes to measuring soil moisture in Texas and around the world. Since TxSON was first installed, NASA has used the information to calibrate and validate its Soil Moisture Active Passive — or SMAP — satellite that measures soil moisture globally. TxSON's interactive map also shows the soil moisture data collected by SMAP.
Two stations near San Antonio also measure water vapor and CO2 fluxes between the land surface and atmosphere, in addition to soil moisture and weather data. These stations provide critical data for understanding regional water balances. For example, a current study led by Tyson McKinney, a research scientist associate at the bureau, uses data from these stations to estimate the amount of precipitation available to recharge the Edwards Aquifer in Central Texas.
TxSON soil moisture stations are distributed around the state with both rural and urban concerns in mind. Dozens of stations are placed in livestock pastures in West Texas and the Texas Hill Country, where soil moisture might be influenced by grazing and land management practices, such as the removal of Ashe Juniper trees. And a collection of stations in the Houston area is being put to use for a flood forecasting project led by bureau research associate Hassan Dashtian, who led the web application upgrade. By better incorporating TxSON readings, Dashtian is developing a way to identify areas with higher flood risks in real time – a method called "nowcasting." Currently, satellite data lags behind by two to five days.
Whether a rancher, researcher, or an interested member of the public, the refreshed TxSON web presence offers a way for anyone to better understand on-the-ground conditions from multiple perspectives across Texas, said Bureau of Economic Geology Director Scott Tinker.
"TxSON represents an excellent example of how the bureau, as the state geological survey of Texas, is improving the collection and delivery of vital environmental data to stakeholders across the state," he said.
The bureau is a research unit of the UT Jackson School of Geosciences.
For more information, contact: Anton Caputo, Jackson School of Geosciences, 210-602-2085; Monica Kortsha, Jackson School of Geosciences, 512-471-2241