The Loop Current itself is important for the climate of the Gulf: sometimes the loop pinches off and forms a warm core eddy, which drifts across the western Gulf of Mexico disrupting fisheries, stressing offshore infrastructure, and providing a massive source of heat for tropical cyclones (the rapid intensification of both Katrina and Harvey right before landfall was due to those storms passing over a warm core eddy). In short, the Loop Current is Important. But surprisingly, we have a very poor understanding of its history before the era of direct observations.
We don't know when it first formed, or whether it was stronger or weaker during past warm climates, which means we don't know whether it will be stronger or weaker in the near future as the climate warms. A slower Loop Current would mean less poleward heat transport globally and more eddies (and thus more disruption of fisheries and infrastructure, and more hurricane fuel) in the Gulf of Mexico.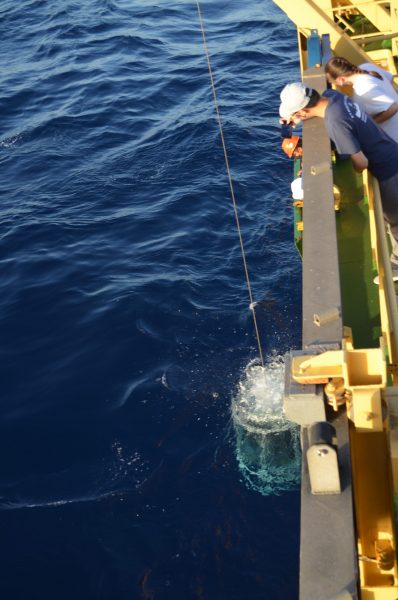 A 2009 cruise of the German research ship Meteor discovered sediment drifts on the edge of the Campeche Bank at a depth attributable to the Yucatan Current, the deeper countercurrent to the Loop Current. Sediment drifts mean there is a physical sedimentary archive of current flow here, and if we can figure out for how long those drifts have been deposited then we can figure out how long the modern current regime has been operating. Then, if we take sediment cores from those drifts, we can use proxies based on planktic foraminifera to reconstruct the strength of the Loop Current over time.
So, in 2018 Jamie Austin and I wrote a proposal to the National Science Foundation (NSF) to go do that with the support of scientists and colleagues from Germany and Mexico, and it was… rejected. We're trying to do too much they said. So in 2019 we rewrote the proposal to focus on just collecting seismic data to determine the thickness and age of the drifts, and that time it was… accepted! Hooray.
So then we got on a ship and collected the data. Ha ha, just kidding. Writing a proposal and getting it funded is the easy part. To actually carry out a research cruise a whole lot of people have to manage a whole lot of things. As Principal Investigator, it's very humbling to watch a whole bunch of people work to turn your idea into reality (also, to be clear, this wasn't "my idea" so much a group project that I organized). The sediment drifts are in Mexican waters, and from the start we've been working closely with Mexican scientists from the National Autonomous University of Mexico (UNAM, in the Spanish acronym). These scientists, Ligia Perez Cruz and Jaime Urrutia Fucugauchi, managed to get us ship time on UNAM's Gulf of Mexico research ship, the B/O Justo Sierra. In order to get permission to conduct a seismic survey in Mexican waters, Jaime and Ligia had to do a tremendous amount preparatory work, meeting with government officials and the Mexican Navy to share survey plans and explain what we were planning to do. They also organized all the logistics for the cruise (port calls, scheduling, etc.) and put us in contact with trusted port agents in multiple ports. It is literally impossible to undersell how essential they were to making this cruise happen.