STEM Outreach Group Visits Jackson School
December 5, 2022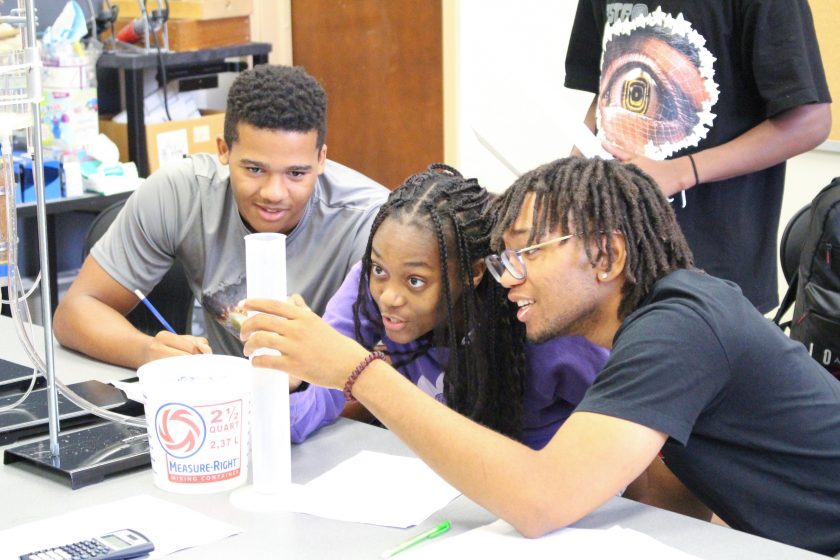 High school students with Fort Valley State University's Math Science and Engineering Academy (M-SEA) visited the Jackson School of Geosciences this summer to learn about the geosciences firsthand.
The M-SEA outreach program offered by the historically Black university in Georgia was the inspiration for the Jackson School's successful GeoFORCE Texas outreach program, which was launched in 2005. Founding GeoFORCE Director Doug Ratcliff worked closely with M-SEA founder Isaac Crumbly to launch GeoFORCE in M-SEA's image.
"Doug said, 'We don't need to reinvent the wheel,'" Crumbly remembers. "And we had already worked out all the kinks."
Crumbly, who is associate vice president for careers and collaborative programs at Fort Valley State, made the trip with M-SEA students to the Jackson School. Over three days, the students visited labs and researchers on The University of Texas at Austin main campus and the J.J. Pickle Research Campus, and fit in some sight-seeing around Austin, too.
"[The visit] definitely opened my eyes to the different options and how college life might be," said Neal Willis, 18. "If I could go through CDEP (a dual-degree program), I would definitely choose this school."
This year, Fort Valley State undergraduates also participated in the Jackson School's RTX program, a nine-week program that showcases graduate opportunities through geosciences- focused math and science activities, research opportunities in Jackson School labs, and lessons in computer coding.