Hydrogen Research Advances
December 5, 2022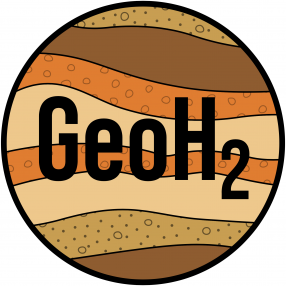 The hydrogen economy is growing. And so is research on the important fuel source at the Bureau of Economic Geology.
The bureau's GeoH₂ consortium was officially launched in February 2022 with its first sponsor meeting. Since then, the consortium has engaged with sponsors in an interactive technical meeting in April and a virtual workshop in July that was attended by 176 people representing 101 companies, demonstrating the growing interest in hydrogen energy in the larger market.
"The successful startup of the GeoH₂ consortium reflects a very high level of interest in low carbon intensity hydrogen as part of a future low carbon economy," said Mark Shuster, the leader of the GeoH2 consortium and the deputy director of the bureau's energy division. "GeoH₂ research addresses geological storage, value chain pathways and new subsurface concepts, which are paramount to developing hydrogen systems and infrastructure."
The GeoH2 group includes 13 researchers from the bureau and three from The University of Texas at Austin's Cockrell School of Engineering. At the GeoH2 meeting, participants heard directly from the scientists on research advances in hydrogen production, storage and transport.
Bureau Research Scientist Ian Duncan provided an overview of the technology required for in situ hydrogen production — a presentation he also gave to the U.S. Department of Energy in 2021 during its kickoff symposium for its Hydrogen Shot initiative.
Several bureau researchers presented work on geological and geophysical research needed for storing hydrogen in depleted fields and saline aquifers. In addition, Lorena Moscardelli and Oliver Duffy of the bureau's State of Texas Advanced Resource Recovery (STARR) program presented research on the potential of large-scale hydrogen storage in salt caverns.
Mojdeh Delshad, Larry Lake and Yuzheng Lan of the Hildebrand Department of Petroleum and Geosystems Engineering at the UT Cockrell School of Engineering spoke about reservoir engineering research examining hydrogen storage in depleted fields and saline aquifers, and hydrogen flow and mixing.
In addition to sharing research on the physical science of hydrogen, the meeting also highlighted hydrogen market research. The bureau's Ning Ling, the chief economist at its Center for Energy Economics, presented research on technoeconomics and value chain analysis.
The GeoH2 workshop provided a research overview to prospective members of the consortium, while also giving scientists an opportunity to answer questions and hear feedback from participants.
"The world has been transitioning from carbon-based fuels to hydrogen-based fuels for over a century," said bureau Director Scott Tinker. "Storing hydrogen in large volumes and safely is critical to this transition. That's exactly what GeoH2 will investigate."
The GeoH2 consortium is one of 13 research consortia at the bureau. For more information on each, visit www.beg.utexas. edu/research/consortia/overview