GeoFORCE Retakes the Field
December 5, 2022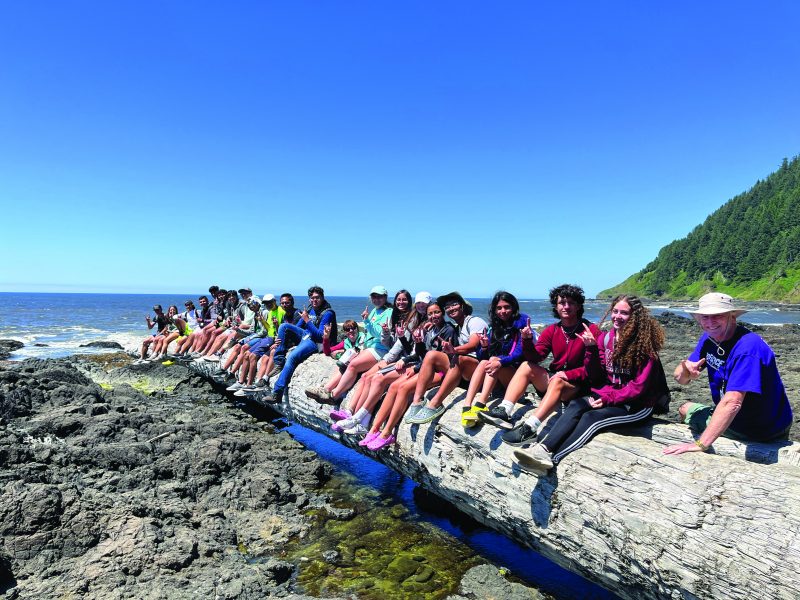 GeoFORCE Texas was back in the field this summer for the first time since the COVID-19 pandemic turned the program virtual in 2020. Some 441 students in 13 academies visited field sites in Texas, Nevada, Utah, Arizona and the Pacific Northwest.
"There was such tremendous energy and excitement in the field," said Dean Claudia Mora, who attended the trip to the Pacific Northwest. "Watching these young people go through the process of learning and discovery was invigorating!"
GeoFORCE Texas is an outreach program of the Jackson School of Geosciences that introduces high school students from underserved communities to STEM and geosciences careers through summer field experiences, corporate mentoring, and college guidance.
In addition to returning to in- person field trips, the program ran its first symposium where high school seniors showed off their research at The University of Texas at Austin Texas Student Union. The event was followed by an awards ceremony where the keynote was given by Izaak Ruiz, a GeoFORCE and Jackson School alumnus (B.A. 2017, M.S. 2019) who works at Repsol's Geological Low Carbon Americas group.
GeoFORCE also broadened its scope this year to include family members of GeoFORCE students from Southwest Texas. The pilot program funded by Repsol used virtual sessions to educate family members about the geosciences and how to prepare for college. The plan, depending on additional funding, is to expand the GeoFORCE Family program to include the families of all GeoFORCE students and include in-person field trips and information sessions.
To round out the year, GeoFORCE Texas received a 2022 Special Commendation Award from the Society of Exploration Geophysics. The award honors the program for contributions over the past decade in fostering diversity and supporting underrepresented minorities and women in STEM during the transition from high school to college. The Jackson School also awarded $2,500 scholarships to 11 GeoFORCE alumni who are attending the Jackson School this year, including three incoming freshmen.