PLATES at 30
November 26, 2019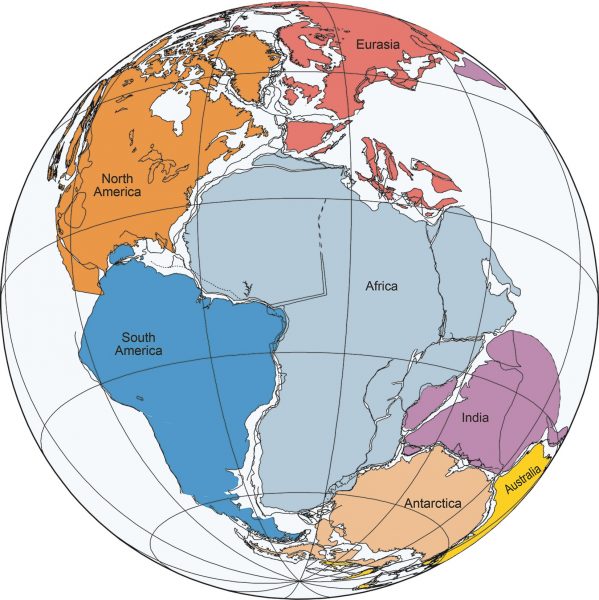 The PLATES program at the University of Texas Institute for Geophysics
(UTIG) has spent 30 years studying how tectonic plates move around the Earth and creating reconstructions of how the planet's continents have changed over time. The animations, databases and tools developed by the project have been used for diverse purposes, from oil and gas exploration to tracking animal migration in the Earth's distant past.
The program marked the three-decade milestone with a symposium in March 2019 that brought together colleagues from across the world to reflect on some of the program's key achievements, present new research and discuss the future of plate tectonics research.
Nearly 100 scientists attended the event. Many were from the Jackson School of Geosciences, but visitors came from the University of Oslo in Norway, the University of Exeter in England, the University of Lyons in France, Caltech University, Tulane University and Rice University. Industry was also well represented with attendees from Shell, BHP Billiton, Total, Actus Veritas, Hess, ExxonMobil and Chevron.
PLATES co-investigator and UTIG research professor Ian Dalziel said the symposium served three purposes: to assess how far plate reconstructions have progressed since the days before plate tectonics were discovered, understand where the field is heading, and explore how PLATES might be relevant within other Earth sciences.
One such area is biology — in particular, evolutionary biology. Speaking on the morning of day one, Jackson School Professor Julia Clarke described how plate reconstructions are changing how we think about biodiversity dynamics and the origins of species. Among other highlights, Joann Stock, a professor of geology and geophysics at Caltech, gave a presentation on the origins of the Altiplano plateau, an unusually broad section of the central Andes.
Other talks looked at recent applications of machine learning in plate modeling, how new satellite data has improved plate reconstructions, whether plate tectonics is driving the global carbon cycle and a lively debate on the role of paleomagnetism in understanding Earth evolution. All talks were recorded and are available on www.ig.utexas.edu.