Paleo on Screen
November 25, 2019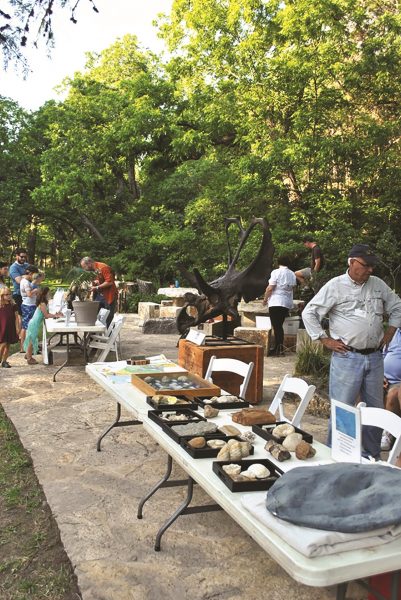 The Jackson School of Geosciences Museum of Earth History Vertebrate Paleontology Collections  is always on the lookout for opportunities to present geosciences to the public. Hollywood, with its penchant for bringing dinosaurs and prehistoric-looking monsters to the screen, often offers a perfect backdrop.
That's why paleontologists with the collection partnered with the Alamo Drafthouse movie theaters on events during screenings of "Jurassic World: Fallen Kingdom," "The Meg," "Boneyard: Alaska," and "Godzilla: King of the Monsters." They also partnered with the City of Wimberley Parks Department for an event during a showing of "Jurassic Park."
Events usually included fossil exhibits before the shows and question-and-answer sessions with the audience after. Matthew Brown, director of museum operations for the Vertebrate Paleontology Collections, said events such as these are a great way to make connections with people who might not ordinarily visit museums.
"Bringing fossils (and our graduate students and faculty members) to venues like the Alamo Drafthouse allows us to reach audiences that might not otherwise be aware that Texas has such a rich and important paleontological history, or even that fossils can sometimes be found in their own Austin neighborhoods," he said