Jackson School Hosts High School Researchers during AAAS Conference
December 4, 2018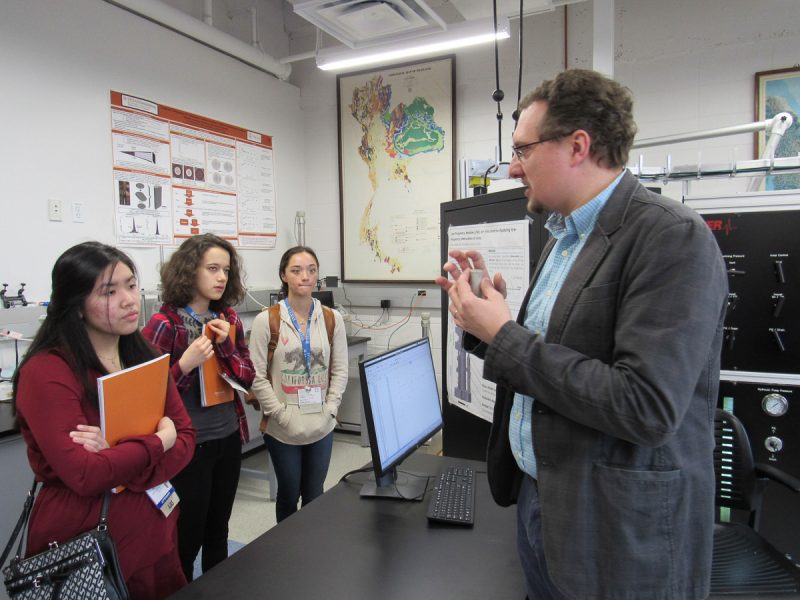 Roughly 160 of the country's best high school scientists converged on The University of Texas at Austin on Feb. 15-16, 2018, for a first-hand look at one of the nation's top research universities.
The students were members of the American Junior Academy of Science (AJAS), the nation's only honor research society for high school scientists. The university hosted the group as part of the AJAS annual conference, which is held in conjunction with the American Association for the Advancement of Science's (AAAS) annual meeting. In addition to the Jackson School, the students visited the Cockrell School of Engineering, College of Natural Sciences and Dell Medical School.
The Jackson School hosted about 60 of the students, treating them to a full day of lab tours and scientific discussion on the main campus and the J.J. Pickle Research Campus. These included tours of the CT Lab, Methane Hydrate Pressure Core Center, Rock Deformation Lab, Vertebrate Paleontology Collections and the Austin Core Research Center.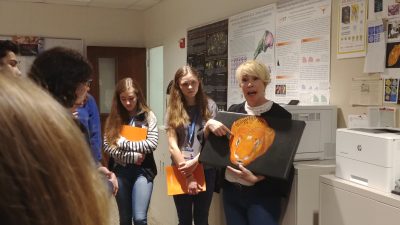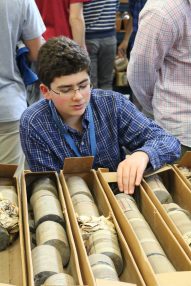 "The tour was short but effective," said Professor Nicola Tisato, who led tours through his rock deformation lab. "Students from my group and I explained the process of taking a rock sample, turning it into a precise cylinder, and testing it at pressures and temperatures that mimic the conditions in the Earth's crust."
Jackson School professors and researchers were impressed with the students and offered them a variety of experiences. Research Scientist
Associate Peter Polito, who led tours through the pressure core center, said the students reminded him a bit of his younger self.
"They were very bright, asked challenging questions," he said. "I was just a bit younger when a meteorologist from the National Weather Service gave me a tour of the NWS office for a school project — I can point to that event as a big reason I ended up in the geosciences today. I only hope 20 minutes in the pressure core center might have the same effect on one or two of them."
After the day of tours, students were given the opportunity to have a sit-down breakfast with 10 UT scientists, including two from the Jackson School.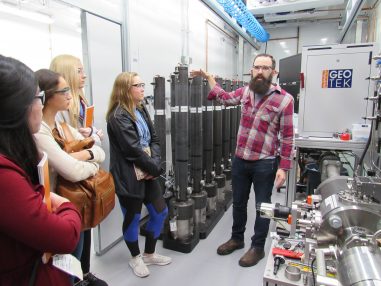 "The students are extremely impressive, and we were honored to host them and show them around our campuses," said Maurie McInnis, executive vice president and provost at UT. "UT Austin is one of the world's leading research universities, and our faculty love sharing their work with students and hearing about their interests and what they want to explore."
The tours were part of the Jackson School's overall efforts during the AAAS Conference. UT, with the Jackson School's support, helped sponsor the conference, which brought thousands of scientists to Austin. Among the conference-related events the Jackson School participated in were a mixer with UT researchers and national science reporters, family science day, and representing the school at a UT booth.