Jackson School Scientists Go Deep for Cave and Karst Day
December 4, 2018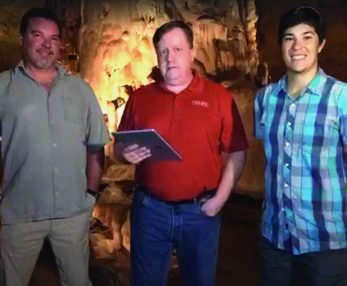 Jackson School of Geosciences scientists explained the importance of cave research and cave environments in a chat that was broadcast live from deep inside Natural Bridge Caverns, a cave system located near San Antonio and the largest commercial cave in Texas.
Adjunct Assistant Professor Marcus Gary and Research Associate Corinne Wong took part in the chat, which was held on June 6, 2018, in honor of National Caves and Karst Day and broadcast on Facebook Live. Brian Vauter, the staff geologist for the caverns, moderated the discussion which took place 165 feet underground in front of a formation known as the Castle of the White Giants.
Wong explained how she uses cave deposits to reconstruct past climates. Gary, who is also a hydrogeologist at the Edwards Aquifer Authority, emphasized the importance of the Edwards and Trinity aquifers, which both flow through the cavern area, in supplying drinking water to communities in Central Texas.
"It's really important for us to be able to document the conditions of the aquifer, how they recharge, what types of conditions are dependent for recharge to occur … to maintain a sustainable resource for the whole region," Gary said.
About 11,500 viewers tuned in to the broadcast.