Hidden "Rock Moisture" Could Help Forests Survive
December 3, 2018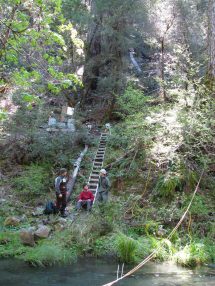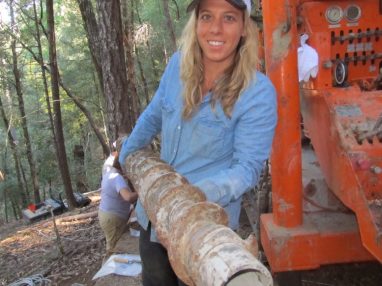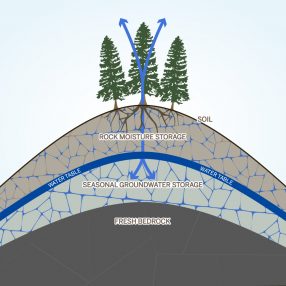 Research conducted by The University of Texas at Austin and the University of California, Berkeley has found that a little-studied, underground layer of rock can hold significant amounts of water that may serve as a vital reservoir for trees, especially in times of drought.
This transitional zone beneath soils and above groundwater is often overlooked when it comes to studying hydrological processes, but researchers found that the water contained within the fractures and pores of the rock could play an important role in the water cycle at the local and global level.
"There are significant hydrologic dynamics in weathered bedrock environments, but they are not traditionally investigated because they are hard to access," said lead author Daniella Rempe, an assistant professor in the Department of Geological Sciences.
The results were published in the journal PNAS on Feb. 26, 2018.
At the field site in Northern California's Mendocino County, scientists found that up to 27 percent of annual rainfall was stored as "rock moisture," with water clinging to cracks and pores within the bedrock. The impact of rock moisture will vary depending on the region and topography, but researchers said it likely explains how the trees in the study area showed little affect from the severe 2010-2015 drought that killed more than 100 million trees throughout California.
The researchers monitored the rock moisture from 2013-2016 at nine wells drilled into the weathered bedrock along a steep forested hillslope. They found that the weathered rock layer built up a supply of 4 to 21 inches of rock moisture during the winter wet season, depending on the well. The maximum amount of rock moisture in each well stayed about the same throughout the study period, which included a significant drought year. It's a major finding that indicates that it doesn't matter if it rains a little or a lot during the winter dry season — the total rainfall amount does not influence the rock moisture levels.
The potential for rock moisture to travel back to the atmosphere via evaporation from tree leaves or to trickle down into groundwater indicates that it could have a broad impact on the environment and climate.