UT Fossil Collections Bring Big Cat to Life
December 20, 2016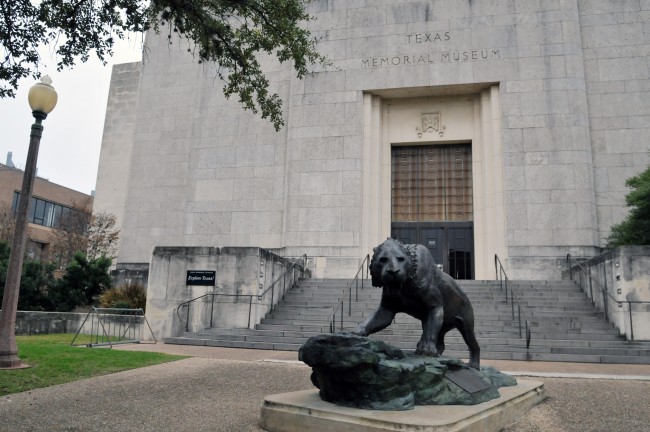 By Monica Kortsha
Heroically posed men and horses commemorate the past 200 years of Texas history on The University of Texas at Austin campus. Go to the east edge of campus, near the Butler School of Music, and you'll leave behind modern history—the kind documented by treaties, paintings, letters and newspapers—to see a monument to Texas' deep past.  There are no coat tails or ascots here; instead, it's teeth the size of daggers.
The teeth belong to Smilodon fatalis, an enormous saber-toothed cat and Texas native. Weighing up to 600-pounds, the big cat hunted mammoths, bison, and other large mammals 10,000 to 40,000 years ago. Today, a bronze sculpture of the beast guards the entrance of the Texas Memorial Museum, a space to visit thousands of fossil, rock and animal specimens on display from the UT collections.
At about 7 feet long, the statue of Smilodon is 1.25 times larger than life. But the monument's 7-inch canine teeth are life-sized. They're casts of actual fossils kept in the university collection at the UT Jackson School of Geosciences' Vertebrate Paleontology Laboratory. The official holding spot for fossils collected on state and federal lands in Texas, it's one of the largest fossil repositories in North America.
Making the Smilodon sculpture come to life was a close collaboration with the people and objects housed in the lab, said John Maisano, an artist and exhibit designer at the Jackson School.
"The thing that puts scientists and artist on common ground is passion," Maisano said. "From there, we work together to bring to the public everything we're studying."
Scientists provide the information on an animal, its behavior and environment. It's the job of an artist to translate the meaning into works that captures people's attention and imagination. Maisano has been working with museums for 26 years. Before coming to UT in 2000, he designed exhibits and painted scenery for the Yale Peabody Museum of Natural History. He's done the same for the Texas Memorial Museum, designing the exhibit spaces for the bottom three floors and landscapes for the Texas habitats exhibits. You can tell which backgrounds are his by looking for his signature sketch, a miniature Starship Enterprise, hidden somewhere in the piece. (Search for it in the Texas Memorial Museum's desert diorama with gophers and a javelina.)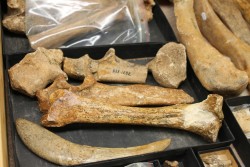 Jackson School Professor Emeritus Ernie Lundelius, an expert on Ice Age mammals, was a frequent visitor to Maisano's studio during the sculpting process, giving feedback on body proportions of the beast as it took shape from mounds of clay. He also loaned the Smilodon teeth to Maisano so he could make casts to include in the statue. Matthew Brown, the director of the paleontology lab, said artwork of prehistoric life helps people visualize what a different world Texas was thousands of years in the past.
"They were living, breathing animals, which is something that's hard for most people to get a feel for. But then someone like John comes along and brings the life in that way," Brown said. "Artwork makes extinct worlds more accessible. You go from looking at bones to looking at an animal in its environment. And at the Texas Memorial Museum you can make that extra step and say 'that environment was here.'"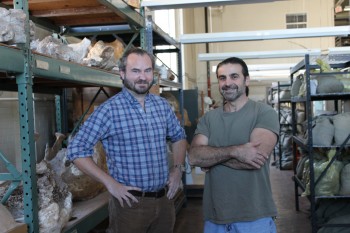 However, bones don't provide a complete picture of what an animal looked like. Making Smilodon come to life involved a large degree of artistic imagination, too. Maisano's inspiration for the sculpture's pose—with the cat's strong shoulders arched above its head—came from a visit to the Dallas Zoo when a jaguar hunched low to the ground and stalked him for a few seconds as he walked along an exhibit path.
"All the blood ran from my head in that moment, and that's what I was trying to capture," Maisano said. "I was most consumed with the pose and getting [Smilodon] to stalk."
The sculpture's mane, wavy and flowing close to the body, came from studying cats—from lions to tomcats—for inspiration. A curl at the mane's peak is an homage to painter Charles Knight, an early 20th century painter who depicted saber-toothed cats with a distinctive tuft of hair along their necks. There's also a more subtle mark left by Maisano. Nearly out of sight, on the bottom of a rock, Maisano etched the message "4 Rose," a dedication to his mother who died before the sculpture was complete.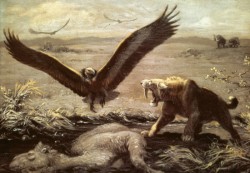 The Smilodon attracts visitors of all kinds, Maisano said. Kids love it, of course, but he's also caught people clad in suits and gowns, perhaps on their way to concert at the nearby Butler Auditorium, posing beside the beast for a picture. A prehistoric cat you can take pictures with and touch—and that dons a pair of bat wings during Halloween—turns an artifact into an attraction.
"I like the mix of art and science, so you just don't get to see stagnant bones, but you give it the environment, you give it that life," Maisano said.
Still, not everyone's a fan. Within minutes after the statue was set on its pedestal in 2007, a critic approached Maisano gripping an image of another artist's painting of Smilodon while scolding Maisano that his sculpture should have looked more like it.
"It was like something out of Seinfeld," Maisano said of the encounter.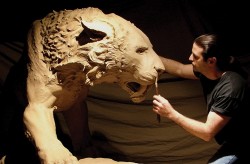 Smilodon is among a collection of Texas paleontology art by Maisano. His life-sized sculpture of the dinosaur Ornithomimus is part of the Hartman Prehistoric Garden at the Zilker Botanical Gardens. And his table-top-sized rendition of the Onion Creek mosasaur is a miniature of a 30-foot-long marine reptile discovered by UT geology students in Onion Creek in 1935; the bones of the actual reptile are mounted inside the Texas Memorial Museum. He also sculpted a miniature of Acrocanthosaurus, a predator that's thought to have stalked sauropods in what is now Dinosaur Valley State Park (the footsteps left behind by both dinosaur types can be seen in a riverbed at the park today). For this piece, paleontologists at the Vertebrate Paleontology Lab advised Maisano to look at the legs of a chicken—technically a living dinosaur—when sculpting the bipedal beast's limbs.
"As an artist, it's really invaluable to have access to the bones themselves and the scientists that are telling you, look at birds, look at the muscles, look at how they're attached and how they're shaped, look at the feet," Maisano said. "To have that information is really helpful."
No one knows exactly what Smilodon looked like as it stalked prey across Texas plains during the last Ice Age. Using artistry, scientific expertise and fossil artifacts, Maisano's sculpture is an attempt to capture not only what ancient Texas wildlife looked like, but also the feelings such an encounter would inspire. Maisano says the words of a camera man present when the sculpture, its polished eyes shining, was unveiled are a good indicator that the Smilodon sculpture is as alive as an extinct cat can be.
"He asked 'What did you do to those eyes? They're glistening and the hair on the back of my neck is standing up. I feel like it's stalking me,'" Maisano said.