Texas' Awe-Inspiring Geology Highlighted in Texas Through Time
January 2, 2017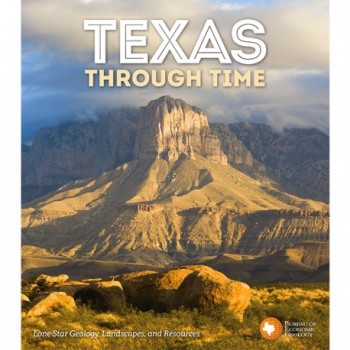 The Bureau of Economic Geology of the Jackson School of Geosciences at The University of Texas at Austin has just announced the publication of a new book documenting the wonders of geology in Texas, Texas Through Time. Written by award-winning geologist Dr. Thomas E. Ewing, with contributions from a range of bureau geoscientists, its preparation was supported with information and funding from geological societies across Texas.
"This beautiful volume contains striking images of the landscapes and geologic features of the Lone Star State, and its rich narrative outlines the deep history of Texas' geology and how it continues to shape and impact the state's culture and economy," said Scott W. Tinker, director of the bureau. "Texas Through Time is the first truly comprehensive overview of Texas' geology to be published in the last 85 years, and we're very proud to share it with everyone interested in the earth sciences and the landforms that make Texas so unique."
Ewing's technical descriptions of geologic processes will inform the student and the novice reader while engaging the more seasoned geoscience professional. This attractive and versatile book is designed to grace readers' coffee tables, but its rich content can also be used as a geologic field guide. In fact, it includes a "Great Places" section which will guide travelers in their explorations of Texas' most unique geologic features.
Texas Through Time can be purchased through The Bureau Store http://begstore.beg.utexas.edu/store/ . The hardcover edition is $49.95, and the paperback edition is $35.  Any questions about this important new publication, or how to purchase it, can be directed to Amanda Masterson at The Bureau Store: 512-471-7144; amanda.masterson@beg.utexas.edu.