Research symposium showcases world-class knowledge
November 2, 2015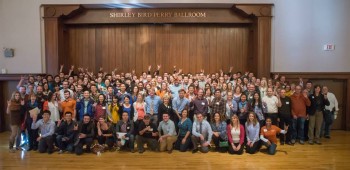 In February 2015 the Jackson School of Geosciences held its 4th Annual Research Symposium.
The day-long poster competition occurs every spring semester and allows students to present their research to a panel of judges composed of faculty, research scientists and industry representatives. Alumni and interested members of the public are also invited to attend. Winners and honorable mentions are as follows: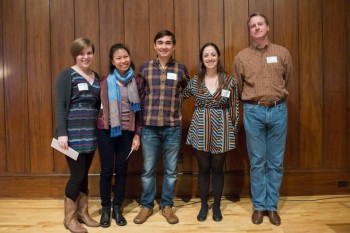 LATE-CAREER PH.D.BEST POSTER AWARD
1st Place: Stephanie Wafforn, Magmatism and hydrothermal fluid flow in the Ertsberg-Grasberg Mining District, Papua, Indonesia: Insights from zircon U/Pb and trace element analysis
2nd Place: Rattanaporn Fong-Ngern, Clinoform growth in a Miocene, Para-Tethyan deep lake basin: thin topsets, irregular foresets and thick bottomsets
Honorable Mention: Nick Perez (now an assistant professor at Texas A&M University), Punctuated upper-crustal shortening, exhumation and basin subsidence during flat-slab subduction in southern Peru
LATE-CAREER MASTERSBEST POSTER AWARD
1st Place: Woong Mo Koo, Coupling of basin-floor fan behavior with shelf-margin processes: Maastrichtian Washakie Basin, Wyoming
2nd Place: Aleksandr Montelli, Late Quaternary history of Bering Glacier dynamics and sedimentation
Honorable Mention: Reed Roush, Hierarchical cluster analysis of a high-resolution XRF-dataset from the Cline Shale, Midland Basin, Texas
EARLY-CAREER GRADUATEBEST POSTER AWARD
1st Place: Pamela Speciale, Evalu­ating the consistency of experimental paleopiezometers using naturally deformed rocks
2nd Place: Timothy Prather, A combined stratigraphic, architectural and ichnologic analysis of the Loyd Sandstone (late Cretaceous) near Rangely, Colorado
Honorable Mention: Eric Petersen, An ice flow modeling approach to understanding regional and aspect-dependent differences between debris-covered glacier lobes in Deuteronilus and Protonilus Mensae, Mars.
UNDERGRADUATE BESTPOSTER AWARD
1st Place: Emilie Gentry, Pseudotachylites in the footwall of the Whipple detachment: implications of seismicity along low angle normal faults
2nd Place: Andrew McPeak, Seamount arrival into the Franciscan Subduction Complex at 100 + 2 Ma: Marin Headlands, San Francisco Bay, California
Honorable Mention: Laura Dafov, Provenance of Adriatic turbidites(Alps-Apennines system)
BEST REPRESENTEDRESEARCH GROUP
1st Place: Sergey Fomel's Research Group
2nd Place: Jack Holt's Research Group