Austin Geological Society Celebrates 50 Years
November 2, 2015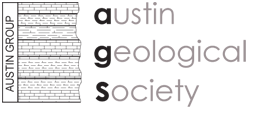 In 1965 the Austin Geological Society was founded by a small group of geologists looking to promote professional communication between members of the Austin's geosciences community. Among that group was the society's inaugural president Peter Flawn, then the director of the Bureau of Economic Geology and future Univer­sity of Texas at Austin president.
In October 2015 the AGS officially celebrated 50 years as Austin's geoscience hub. And in the half century since Flawn helped found and lead the society, the relation­ship between AGS and the university has only gotten stronger.
University staff, faculty and alumni have consistently held leadership positions within the AGS over the years. Its current president Rebecca Smyth is a project manager at the Bureau of Economic Geology. Since the Jackson School of Geosci­ences was established as a college in 2005, half of the society's presidents have been faculty or staff. Starting from most recent, they include Jack Sharp (2014-15), Dennis Trombatore (2013-14), Dallas B. Dunlap (2010-11), Ann Molineux (2009-10), and Ernest Lundelius (2006-07).
The society has brought the university and Austin geology community together in more than one way. At monthly meetings, invited speakers give talks about topics in science and business important to the geosciences community. And AGS' connec­tion with other societies enables its members to get involved with other geoscience groups. The AGS is both an affiliate of the American Association of Petroleum Geolo­gists and a member of the Gulf Coast Association of Geological Sciences.
The society is also a prolific publisher of guidebooks authored by members describing Austin and Central Texas geology. Over 30 have been published since the AGS' founding. One in particular succinctly states the connection of the society to the university through its title: "Rocks, Resources, and Recollections: A Geologic Tour of the 'Forty Acres' — the University of Texas at Austin campus."
For more about the AGS, including guidebooks and monthly meetings, visit: www.austingeosoc.org.