Two-Thirds of the Earth is Covered by Water – and the Jackson School is there
October 22, 2015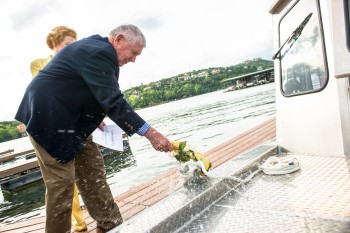 Marine Geosciences
The Jackson School of Geosciences christened a new coastal research vessel on April 22, 2015.
"It will be used in the next decade for research, as well as more teaching and our rapid response program, where we go out and look at what catastrophic processes happen when you have a storm or a hurricane," said Dean Sharon Mosher.
The 26-by-8-foot R.V. Scott Petty, named by Scott and Eleanor Petty of the Scott Petty Foundation, was put to use almost immediately. Professor David Mohrig and his research group took it to Louisiana in May to conduct research on the Wax Lake Delta system, and the boat was used for the Jackson School's marine geology and geophysics field course.
Since the majority of geophysical phenomena happen in parts of the planet covered with water, a research vessel is an essential tool for improving our understanding of the planet, said Terry Quinn, director of the school's Institute for Geophysics.
The vessel was a gift from the Scott Petty Foundation. It is also supported by Cono­coPhillips, which provided funding for scientific equipment, and ExxonMobil, which is funding a safety program for the vessel.
"Geophysics has been our life, and I hope it will be for some of you all as well," said Scott Petty. "We've come a long way."