UT Researchers Accidentally Discover Tool to Examine Melting Glaciers
August 20, 2015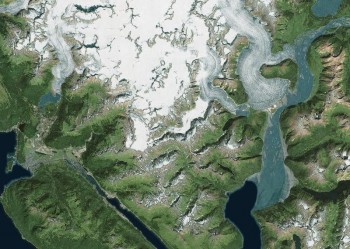 The story starts with six scientists and six glaciers. They set out to Alaska and Greenland to study earthquakes caused by glaciers breaking up. To do this, they hooked seismic sensors up to these big pieces of ice. However, when they pulled this data down, they heard something new: the sound of melting glaciers.
Tim Bartholomaus, a postdoctoral fellow at UT's Institute for Geophysics, says the melting glacial water makes a buzzing, whirring sound. It's a sound that the research team found completely by accident.
Bartholomaus says they initially intended to study the quakes that happen when iceberg calving, when sheets of ice fall off glaciers into the water. When they collected the data, however, there was a background noise in the calving recordings, and the sound wave, he thought,  resembled the shape of a sound wave from a glacier river. A dead giveaway was that the sound was louder in the summer and softer in the winter.
KUT, Aug. 13, 2015
Hispanic Outlook in Higher Education Magazine, Aug. 10, 2015
Featuring: Tim Bartholomaus, postdoctoral fellow, University of Texas Institute for Geophysics, Jackson School of Geosciences