For Tropical Island, a Brief Storm Surge Fuels Big Water Problem
April 16, 2015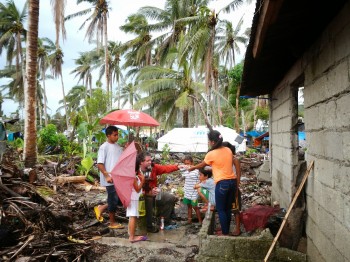 Storm surge thrown onshore by tropical systems can kill, destroy property and reshape coastlines.
Here's another negative for the list: Depending on the makeup of the soil and local infrastructure, it can also contaminate water deep in the ground.
The people on the Philippine island of Samar are learning this the hard way 17 months after waves of seawater thrown onto the island by Typhoon Haiyan fouled groundwater with salt and bacteria, according to a paper published this week in Geophysical Research Letters, a journal of the American Geophysical Union.
Bloomberg Business, April 16, 2015
Futurity, April 16, 2015
Featuring: Bayani Cardenas, Associate Professor, Department of Geological Sciences, Jackson School of Geosciences