Jackson School Welcomes New Field Camp Director
April 20, 2023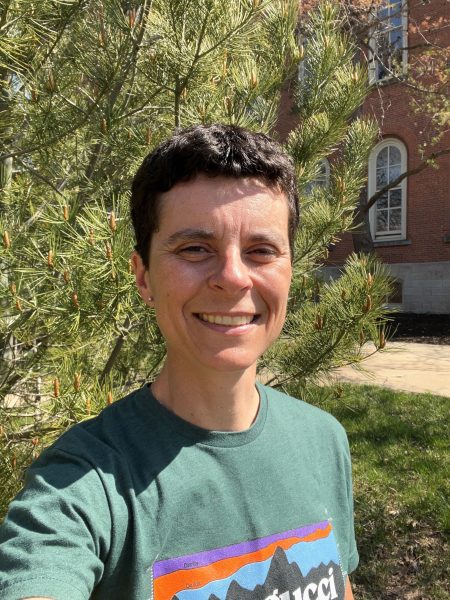 After more than three decades under continuous leadership, the Jackson School of Geosciences' capstone field camp is getting a new director.
Structural geologist Miriam Barquero-Molina will be taking the reins of the GEO 660 field camp in August 2023. An alumna of the Jackson School, she already has plenty of experience with GEO 660. Barquero-Molina helped lead field camp each summer as a graduate teaching assistant during her five years as a doctoral student at the Jackson School, before earning her doctorate in 2009.
"It's a coming home of sorts for me," said Barquero-Molina. "The Jackson School has always felt like home because during a critical stage of my life it was my scientific home, and I feel pride and joy to be a part of it again."
Mark Helper, the Jackson School's former field camp director of 34 years, retired in August 2022 and is now a Distinguished Senior Lecturer Emeritus.
Barquero-Molina is currently field camp director and associate teaching professor at the University of Missouri. For the past 13 years, she has been leading "Camp Branson," the University of Missouri's six-week field camp in Lander, Wyoming. Under her direction, the camp thrived. In 2014, Barquero-Molina was recognized by the Geological Society of America with the GSA/Exxon Mobil Field Camp Excellence award.
Barquero-Molina has experience leading field trips across the country, from California to the Appalachians. She has also been at the helm of international trips to volcanoes in Chile, the Pyrenees and the Cantabrian Mountains in Spain.
Danny Stockli, chair of the Department of Geological Sciences, said that he is very excited to welcome Barquero-Molina back to the Jackson School to write the next chapter of the school's century-old field camp program. The Department and the Jackson School as a whole continue to prioritize field-based student education, even while many other geoscience programs are cutting back on their focus on fieldwork. As part of those efforts, field camp is going through some critical changes to make field-based learning more accessible to everyone and integrate it throughout students' academic careers. Stockli said the school conducted a national search to find the right mix of experience, innovation, and passion to carry that vision forward and was able to attract Barquero-Molina.
"We are very lucky to have Miriam," he said. "Her passion for field education and experience are second to none. Field and experiential learning are such an important aspect of our student education, but also an aspect that is undergoing critical changes, ranging from pedagogy, technology, to accessibility and inclusivity. To have someone of Miriam's caliber come in to carry on Mark Helper's legacy and lead us in field-education innovation is just a tremendous win for the Jackson School. I am really looking forward to working with her and seeing what she has in store for our students."
Barquero-Molina said she has been drawn to the field for as long as she can remember. Born in Spain, she recalls reveling in family hiking trips in the mountains. She asked her father what type of person studies mountains. When he responded "geologist," she said her path was set. Barquero-Molina went on to earn her bachelor's in geological sciences from the University of Oviedo in Spain and her master's from the University of Wisconsin-Madison.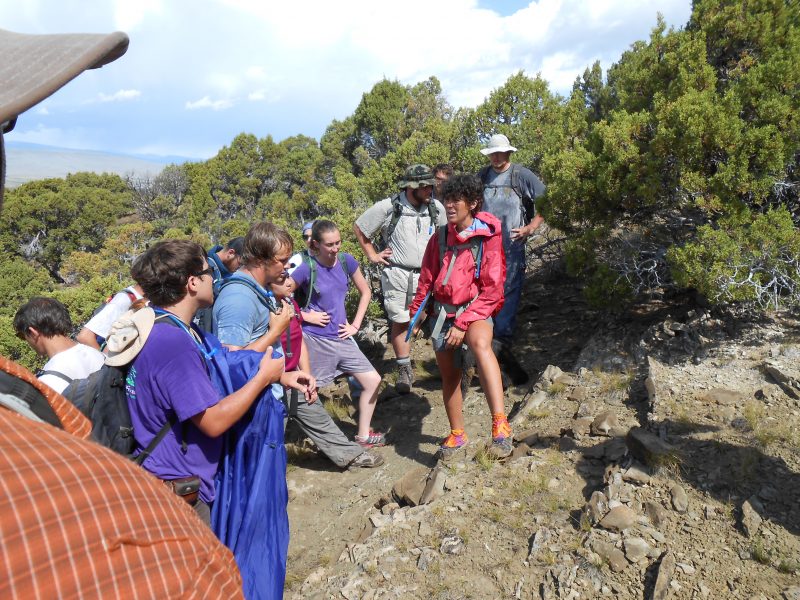 While at Wisconsin she became a teaching assistant for the field methods course. The experience sparked a love for field education. After earning her doctorate from the Jackson School, Barquero-Molina had one primary goal.
"I just wanted to run my own field program," she said.
Barquero-Molina said that her passion for field education comes from the immense growth it instills in students. Field camp is full of challenges and triumphs. She said she loves helping students as they grow on their journey as geoscientists and as people.
At the same time, Barquero-Molina said that it's important that field experiences offer practical experience for geosciences careers. What that looks like has changed with the times, she said. Most geoscientists today aren't the lone map-makers of yore. Many work on diverse, interdisciplinary teams. In her field courses, Barquero-Molina said students work collaboratively and learn to integrate technology, like seismic sensors and geophones, into their field activities.
"Students aren't just hiking next to each other so they don't get lost," she said. "Activities require them to put more effort into the meshing of ideas."
Even as technology and career paths have changed, Barquero-Molina is emphatic that spending time in the field is something that all geoscientists should have in common. Even if someone is analyzing data from behind a screen or conducting laboratory experiments indoors, the Earth is the common factor. And, as she puts it, "the Earth is outside."
"Our reality is the Earth, and ours is a profession of the Earth," Barquero-Molina said. "Geoscientists should have experience with the real thing."