Bridging Academia and Industry
December 21, 2022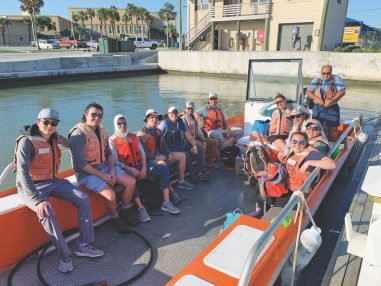 Field Course Provides Tools and Training for Successful Careers
The Jackson School of Geosciences Marine Geology and Geophysics (MG&G) Field Course uniquely prepares future geoscientists for a career in industry, providing real world, hands-on educational experiences that position students for success in their future careers.
This three-week field experience takes students to the Texas Gulf Coast and puts them in the role of expeditionary scientists. They work in teams to collect diverse types of data and then process and interpret their findings. On the last day, they present a final project to their peers, instructors, and course sponsors.
Companies such as Chevron, Shell and bp sponsor the course because they value the wide variety of skills students learn and apply. Geoscientists working in exploration use data every day, but industry leaders said that the field course experience of acquiring and processing data helps students gain another layer of understanding that can serve them well in their careers.
In fact, when leaders from bp heard about the course, they were eager to come on as new sponsors for summer of 2022 and wanted to enroll a few of their own early career geoscientists. As part of their sponsorship, the Jackson School welcomed four bp employees to audit the course, embedding them fully in the entire MG&G field experience.
"On my team, this type of real- world experience helps a geoscientist become someone who really looks at their data, understands where it came from, and why it might not be perfect," said Gabriel Ritter, Gulf of Mexico Exploration Team Lead at bp. "When constantly dealing with uncertainty and risk, this understanding is critical."
In addition to brand exposure, sponsors are able to identify potential recruits with the skills taught in the field class being exactly what they are looking for in a new hire. This course uses techniques that improve a person's ability to understand the shallow subsurface, which is useful in the hydrocarbon space and beyond, including offshore wind, carbon storage, and geohazards.
"We communicated with students at all levels — we were able to get to know them, make connections, and serve as mentors," said Adam Tuppen (B.S. '16), a geophysicist at bp and course auditor. "It was good exposure to promote bp to the students and talk to them about our experiences working for a big company in industry."
As part of the training, students are introduced to a variety of tools and methods used in geohazards surveys, including side scan sonar, multibeam, high resolution seismic, and CHIRP. Sebastian Ramirez (Ph.D. '16), a geologist at Shell, took the course in 2012 when he was a student at the Jackson School and now plays an integral role on the recruiting team at Shell.
"I also went to Port Aransas with the field course, and we used similar techniques," Ramirez said. "I am happy to see updated equipment and new tools. You can clearly see that the funding is being used well."
THANK YOU TO THE 2022 SPONSORS!:
Arthur E. Maxwell Memorial Endowment
bp
Chevron
Quarles van Ufford UTIG Field Endowment
ScottPettyFoundation
Shell
The Hydrographic Society of America — Houston Chapter