Protecting Texas — Searching for Sand
October 29, 2021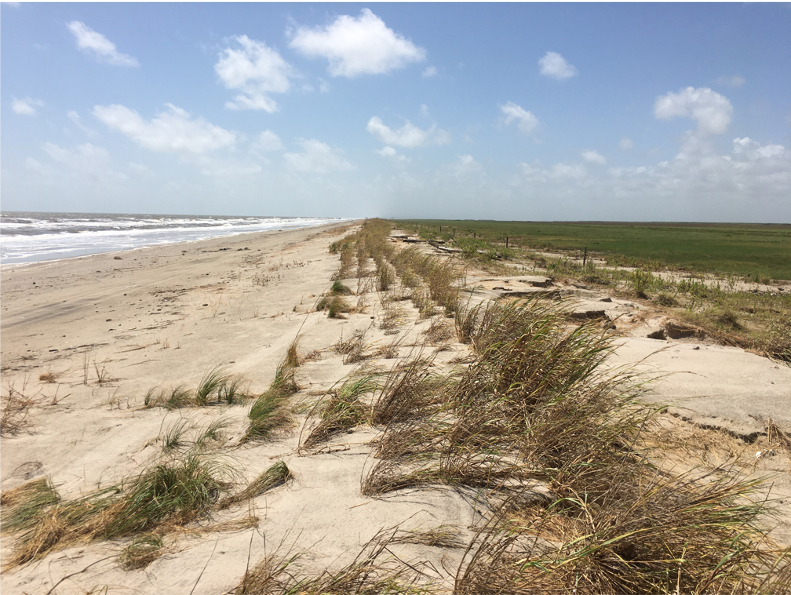 Scientists at the Jackson School of Geosciences embarked from Galveston, Texas, in April 2021 in search of sunken treasure that holds the key to protecting Texas from storms and rising seas: sand. About 80% of Texas' Gulf shoreline is critically eroded, and the state is running out of easily accessible sand to rebuild and protect the shore, as the Texas General Land Office (GLO) has done for decades through its Coastal Erosion Planning and Response Act (CEPRA) Program.
"That's where we come in," said John Goff, a coastal geophysicist at the University of Texas Institute for Geophysics (UTIG), whose group is helping CEPRA locate the sand needed to restore and reinforce the state's beleaguered beaches and build a formal sand inventory for Texas.
The Texas General Land Office's beach restoration projects have, for years, protected coastal communities, industries and ecosystems — quite literally — from the rising tide, but those projects are becoming more difficult as high-quality sand is becoming scarce.
Goff and a team of UTIG scientists aboard the Tommy Munro research vessel began their search for sunken sand deposits in sand-filled remnants of rivers that flowed into the Gulf of Mexico when sea levels were much lower than they are today. Those ancient rivers and estuaries hold seams of easy to reach sand-ore, vital for the GLO's coastal planning efforts. To both CEPRA and the UTIG scientists, the seams are also vital clues in deciphering what happened to the ancient coastline when sea levels began to rise.
"From a scientific standpoint, we're looking back in time 8,000 years to understand how the shoreline and this whole estuarine system responded," Goff said.
Ongoing sea level rise is a problem because it worsens coastal erosion and allows storms to do more damage. During the 2020 tropical storm season, storm systems lingered in the Gulf of Mexico for days, causing extraordinarily high tides that ate away at the shoreline of the entire Texas coast, damaging infrastructure relied on by tourism, residents, fishing and industry, including evacuation routes.
To help locate the millions of cubic yards of sand the engineers need to restore and reinforce the state's beaches, Goff and his team will create a highresolution seismic map of the ancient Trinity River Valley and examine core samples from within the sand deposits. This will help the researchers estimate the volume and quality of the sand and predict the location of other offshore deposits. The team will follow up with similar surveys of the sunken Sabine and Brazos river valleys.