UTIG Director Quinn Joins National Science Foundation
July 24, 2018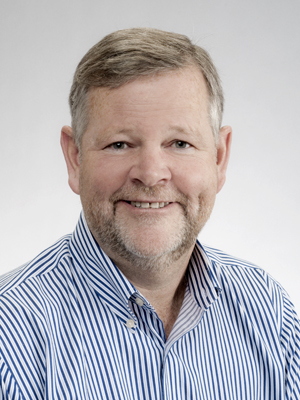 University of Texas Institute for Geophysics (UTIG) Director Terrence M. Quinn has stepped down from his position to join the National Science Foundation (NSF) as Director of the Division of Ocean Sciences. This appointment is effective Monday, July 23, 2018. Quinn will remain a faculty member in The University of Texas at Austin Jackson School of Geosciences.
"I am honored to have had a small role in UTIG's great history, and its future is bright," Quinn said. "I depart with a deep admiration and respect for the UTIG scientists, technical staff, administrative staff, and students. I will miss my friends and colleagues in Austin, but onward to Alexandria. I look forward to serving the ocean sciences community."
Quinn has been UTIG director since 2009. He joined the Jackson School as a distinguished visiting professor in 2005 and then as a professor in 2006. Prior to joining the Jackson School, he was a professor at the University of South Florida College of Marine Science.
Dean Sharon Mosher said she was proud of Quinn and what he accomplished at UTIG.
"I see this as very positive for the Jackson School and UT Austin – this prestigious position reflects well on our reputation," Mosher said. "When Terry returns to the Jackson School at the end of his term, he will bring with him a better understanding of national priorities and NSF funding."
Under Quinn's leadership, UTIG's budget increased by about $10 million, and its climate and planetary geophysics groups expanded significantly. Among other highlights during Quinn's tenure, he helped establish new royalty streams to diversify UTIG's funding, including partnering with a geophysical service company to market seismic data from the Gulf of Mexico, which has yielded  about $4 million in royalties to UTIG so far.
"Over the nine years he has been director, the institute has undergone significant positive changes and made numerous scientific advances," Mosher said. "The institute has increased its diversity in terms of science, youth and gender.  His leadership for UTIG and JSG will be missed."
As a scientist, Quinn's area of expertise is paleoceanography and paleoclimatology, focused on the tropical to sub-tropical oceans. He has written or co-authored over 75 peer-reviewed papers, many of them with his graduate students. He also served as a lead author of a chapter in the 5th Assessment Report of the Intergovernmental Panel on Climate Change and has served in numerous advisory and service roles within the ocean sciences community.
UTIG Associate Director Mrinal Sen has agreed to be the interim director while the Jackson School undertakes an international search for a new permanent UTIG director. Mosher said Sen's position as Associate Director and prior experience as Director of National Geophysical Research Institute (NGRI) in Hyderabad, India, are excellent preparation for this interim appointment.
For more information, contact: Anton Caputo, Jackson School of Geosciences, 512-232-9623; Monica Kortsha, Jackson School of Geosciences, 512-471-2241