UT Tower Lit Orange in Honor of GeoFORCE Texas Presidential Award
April 3, 2015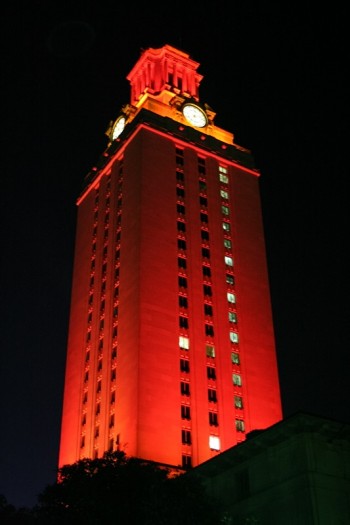 On Friday April 3, 2015 the UT Tower will be lit orange in honor of GeoFORCE Texas receiving a Presidential Award for Excellence in Science, Mathematics and Engineering Mentoring. The award is among the highest honors a university can receive from the United States government.
GeoFORCE Texas, an outreach program of the university's Jackson School of Geosciences, takes high school students from disadvantaged areas of the state in inner-city Houston and rural Southwest Texas on field trips each summer throughout high school to  geologically significant sites across the country. As a result, potential geoscientists are introduced to the profession, and students from disadvantaged areas find a path to college and rewarding careers.
The Presidential Award recognizes the crucial role that mentoring plays in the academic and personal development of students studying science and engineering — particularly those who belong to groups that are underrepresented in these fields. A GeoFORCE representative will receive the awards at a White House ceremony later this year, and the program will receive $10,000 from the National Science Foundation.
The Daily Texan, March 31, 2015
KVUE, March 30, 2015