Remote-control Submarines
October 21, 2014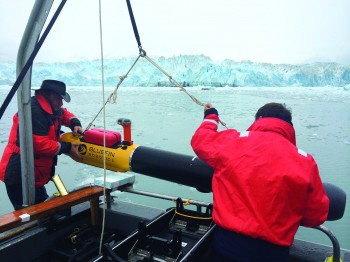 In June 2014, scientists with the University of Texas at Austin's Institute for Geophysics (UTIG) and the U.S. Cold Regions Research and Engineering Laboratory teamed up with Bluefin Robotics to conduct an underwater survey near Alaska's Hubbard Glacier.
The team used an autonomous underwater vehicle, or AUV, to survey the glacier's debris-laden bank in areas that surface vessels can't safely operate. In question was whether these remote-control vehicles could be used for research in such harsh environments. The project, according to the scientists, clearly proved they can.
"The data collected along the morainal bank were truly spectacular, providing phenomenal, centimeter-scale seafloor detail close to the glacier in regions that could not be surveyed with surface vessels," said John Goff, a UTIG senior research scientist.
AUVs have the potential to reduce the risk of conducting research in dangerous environments. The Hubbard Glacier, for instance, is one of the few advancing tidewater glaciers in the world. It is readily accessible from Yakutat, Alaska, and offers a premier opportunity for studying ice, sediment and seawater interactions at a tidewater glacier front in contact with the stabilizing submarine morainal bank. However, it is also one of most challenging environments imaginable for marine survey work.
The sea is constantly choked with ice and there is always the possibility that chunks of the glacier will fall into the ocean, making the area unsafe for boats.
"Our project clearly proved the viability of AUV operations in this harsh environment," Goff said.
In addition to Goff, UTIG's Sean Gulick and Dan Lawson from the Cold Regions Research and Engineering Laboratory collaborated on the project. Funding was provided by the Jackson School of Geosciences seed grant initiative and by Bluefin Robotics.