Exploration Geophysicist Robert Tatham Retires from Jackson School
October 22, 2014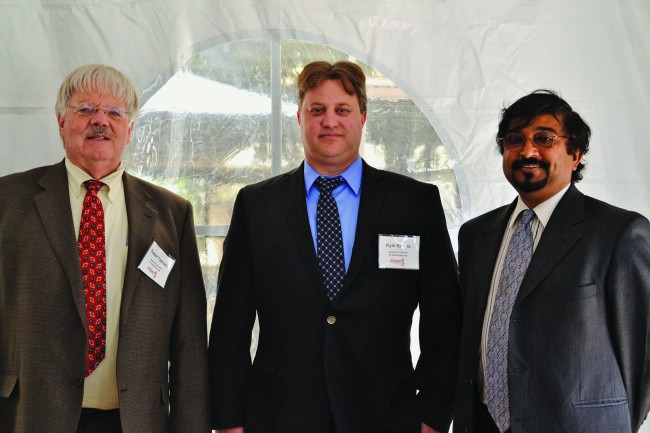 Bob Tatham, professor and Shell Centennial Chair in Geophysics, began his career in exploration geophysics after graduating from California State University, Northridge, in 1967 with a B.S. in physics. At the time, he had, at best, a hazy idea of what geology and geophysics were and even less of an understanding of exploration geophysics. Almost 50 years later, there are probably few who can match his knowledge and experience in the field.
Tatham's long and varied career includes 10 years as a practicing exploration and special problems geophysicist, five years with a major international contractor, 12 years supervising and managing research activities with a major producer, and 15 years as a professor and Shell Centennial Chair in Geophysics at the Jackson School of Geosciences.
Tatham has retired from his positions at the Jackson School and plans to spend his extra time traveling with his wife, Henna. The two recently took a road trip to Alaska and the Arctic Ocean, and Tatham said a driving trip across Australia could be in the future. Colleague Clark Wilson, the Wallace E. Pratt Professor of Geophysics at the Jackson School Department of Geological Sciences, said Tatham's leadership will be missed.
"He brought a tremendous amount of industry experience and has been a real asset in improving our connection to industry," Wilson said, pointing out that the University of Texas at Austin is one of the top schools in the world for exploration geophysics.
"It speaks to the reputation of having distinguished people like Bob on the faculty," Wilson said.
Over his career, Tatham has been actively involved in all aspects of geophysical methods applied to petroleum problems in both the exploration and contractor segments of the industry as well as in academia. But he said that his ability to "bring things together" is his greatest strength.
"Where I've been successful, I think, is in putting things together—a wide breadth of different things," he said.
This strength was on display during one of Tatham's signature achievements at the Jackson School—the creation of the EDGER (Exploration Development Geophysics Education and Research) Forum. The forum is a consortium of industry participants that sponsors education and research in exploration geophysical technology. Since it was created in 2000, the forum has helped 24 students obtain master's degrees and seven complete their doctorates.
Professor Mrinal K. Sen, a co-principal investigator at the EDGER Forum, said those students have left the forum with the tools to excel in the real world thanks, in large part, to Tatham.
"Bob gives very good advice to students," Sen said. "And he is very well-versed in the issues that companies have to deal with. The courses that he designed here are absolutely practical."
Tatham's academic career began long before his time at the Jackson School. He was an adjunct professor at the University of Houston from 1987 to 1999. During that time, he discovered a knack for advising graduate students. It was a trait he would put to good use at the Jackson School, where Tatham advised 28 doctoral and 20 master's students since joining the school in 1999.
During his career, Tatham's research activities included all aspects of seismology applied to exploration, development and production of hydrocarbons, with a focus on the interpretation and analysis of seismic data to extract rock, reservoir and fluid properties. His recent activities have expanded these efforts to include characterization of resource shales to optimize the identification of the most productive parts of the shales.
Tatham described the world of exploration geophysics as "very collegial" and a tremendous place to spend a career. He is an active member of the Society of Exploration Geophysicists and plans to stay active at the Jackson School through his professor emeritus status.
"It has been a great pleasure to work with Bob," Sen said.