Small Earthquakes in the Eagle Ford Region of Texas Correlate with Oil and Water Extraction, Not Wastewater Injection
August 20, 2013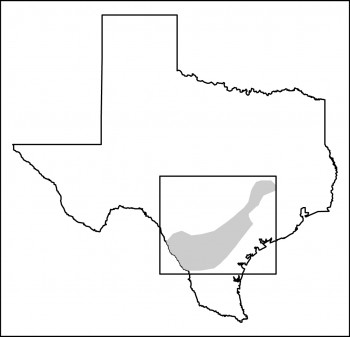 Most of the small earthquakes in the Eagle Ford region of South Texas are probably the result of extraction of large volumes of oil and associated water, according to new research by Cliff Frohlich, associate director at The University of Texas at Austin's Institute for Geophysics.
No injuries or severe damage were reported from any of the quakes identified in the two-year study, although the two largest (magnitude 3.9 and 4.8) did cause  shaking at the surface.
The results, appearing this week in an online edition of the journal Earth and Planetary Science Letters, show the Eagle Ford area contrasts sharply with the Barnett Shale region of North Texas, where Frohlich and colleagues reported last year that most small earthquakes were probably triggered by the injection of large volumes of waste water from hydraulic fracturing.
Both the Barnett Shale and the Eagle Ford Shale have experienced a boom in unconventional oil and gas extraction in recent years due in part to the availability of hydraulic fracturing technology. The Barnett Shale study and others have raised concerns that hydraulic fracturing or the subsequent injection of waste fluids associated with the practice can induce small earthquakes. However, this latest study found most small earthquakes in or near the Eagle Ford region were induced by fluid extraction, rather than fluid injection.
"Although there is a considerable amount of hydraulic fracturing activity in the Eagle Ford leading to a significant amount of waste fluid being injected in the Eagle Ford region, we don't see a strong signal associated with that and earthquakes," he says. "However, the earthquakes seem to be associated with petroleum production, as in the past. We can't say there aren't any earthquakes induced by injection, but we can say that it's just not the strong signal."
Though it might seem disconcerting that oil production can produce earthquakes large enough to feel at the surface, notes Frohlich, the long history of oil production helps put the risk in context.
"One way to look at this is that Texas is a huge laboratory," says Frohlich. "We've produced vast amounts of oil and gas since the 1930s, and since then a number of earthquakes have occurred in oil and gas fields without significant damage and the majority without ever being felt at the surface. So if producing petroleum  was vastly dangerous, Texas would be famous for its constantly damaging earthquakes. Since we're producing petroleum in places that we haven't been before, this is a phenomenon that we need to understand, but it's not appropriate to say it's vastly dangerous."
Frohlich analyzed seismic data collected between November 2009 and September 2011 by the EarthScope USArray Program, a National Science Foundation-funded network of broadband seismometers deployed from the Canadian border to the Gulf of Mexico. Because of the high density of instruments (25 in or near the Eagle Ford Shale), Frohlich was able to detect earthquakes down to magnitude 1.5, too weak for people to feel at the surface and many of which were not detected by the U.S. Geological Survey's more limited seismic network.
Frohlich identified and located 62 probable earthquakes, including 58 not reported by the U.S. Geological Survey. The 62 probable earthquakes occur singly or in clusters at 14 sites. Eight of the sites were near wells where extraction of oil and/or water had recently increased, two were near wells where injection of water had recently increased and four were not situated near wells reporting significant injection or extraction increases.
Frohlich suggests one possible explanation for the differences in earthquake triggers in the Barnett and Eagle Ford regions is that in the Eagle Ford, petroleum has been produced by conventional means from various other strata, notably the Edwards formation, for more than 60 years. In contrast, the induced earthquakes in the Barnett have mostly occurred in areas where widespread petroleum production took place only within the past 10 years. Another possible explanation is that there are more faults in the Eagle Ford region than in the Barnett that can be activated by the movement of fluid in the subsurface.
The largest recorded earthquake to occur in the Eagle Ford region during the two-year study was a magnitude 4.8 quake near the town of Fashing on Oct. 20, 2011. Although relatively large for South Texas, it wasn't without historical precedent. The town experienced a magnitude 3.2 quake in 1973 and a magnitude 3.4 quake in 1983, both associated with an increase in the production of water at nearby wells as a byproduct of petroleum extraction. The 2011 Fashing earthquake also followed an increase in nearby oil and water production.
The second largest quake in the Eagle Ford region during the study was a magnitude 3.9 near Alice, Texas on April 25, 2010. Frohlich and his colleagues published a paper last year in the journal Bulletin of the Seismological Society of America that concluded that "it is plausible, although not proven definitively, that production in the Stratton field contributed to the occurrence of the 2010 Alice earthquake."
Financial support for this study came from the U.S. Geological Survey and from RPSEA through the "Ultra-Deepwater and Unconventional Natural Gas and Other Petroleum Resources Research and Development Program" authorized by the Energy Policy Act of 2005. This program—funded from lease bonuses and royalties paid by industry to produce oil and gas on federal lands—is designed to assess and mitigate risk enhancing the environmental sustainability of oil and gas exploration and production activities.  RPSEA is under contract with the U.S. Department of Energy's National Energy Technology Laboratory to administer three areas of research. RPSEA is a 501(c)(3) nonprofit consortium with more than 180 members, including 24 of the nation's premier research universities, five national laboratories, other major research institutions, large and small energy producers and energy consumers. The mission of RPSEA, headquartered in Sugar Land, Texas, is to provide a stewardship role in ensuring the focused research, development and deployment of safe and environmentally responsible technology that can effectively deliver hydrocarbons from domestic resources to the citizens of the United States.  Additional information can be found at www.rpsea.org.
The University of Texas at Austin is committed to transparency and disclosure of all potential conflicts of interest of its researchers.  Frohlich has no research support from the petroleum or hydraulic fracturing industries.  He has consulted for geophysical service companies concerning seismic risks for dams, power, water pipelines and petroleum fields.
Resources
Eagle Ford paper (2013): http://www.sciencedirect.com/science/article/pii/S0012821X13004007
Barnett Shale paper (2012): http://www.pnas.org/content/109/35/13934
Alice, Texas earthquake paper (2012): http://www.bssaonline.org/content/102/2/457
Images for Reporters (click to download high resolution versions):
| | |
| --- | --- |
| For Fashing region, map of seismic events (circles), Class II injection wells (yellow squares), wells producing/extracting water (blue squares) and mapped faults (green lines). For seismic events, green circles have origin times during local daylight work hours (which might indicate quarry blasts); red circles occur at other times; and larger circles have more precisely estimated locations than smaller circles. For injection wells, small squares represent injection rates above 10,000 barrels of water per month (BWPM), large squares represent rates above 100,000 BWPM. | Fashing earthquakes (red circles, magnitude on right axis) in 1973, 1983 and 2011 coincided with significant increases in net fluid extraction volumes (black graph, volumes on left axis). Net fluid extraction is equal to oil extraction (green) plus water extraction (blue) minus water injection (red). Gray shaded area indicates time interval when USArray station data was available. |
| EarthScope engineer Dean Lashway uses a laptop to test a USArray seismometer that sits on a concrete pad at the bottom of a vault. Photo courtesy of Incorporated Research Institutions for Seismology. | EarthScope engineer Dean Lashway secures the waterproof enclosure that contains the electronics for a USArray seismic station. Photo courtesy of Incorporated Research Institutions for Seismology. |
| Texas map showing extent of Eagle Ford Shale (shaded grey) and Frohlich's study area (box). | |
For more information on the Jackson School, contact Marc Airhart at mairhart@jsg.utexas.edu or 512-471-2241.