Memorial: Wann Langston, Jr.
April 9, 2013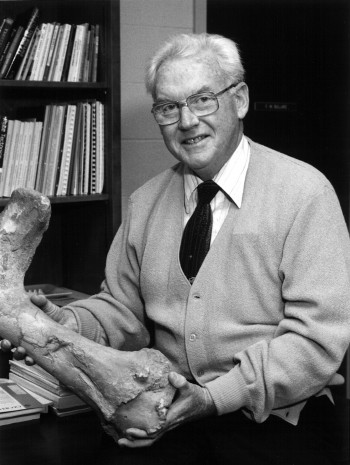 It is with deep regret that I write to confirm that Dr. Wann Langston, Jr. passed away late on Sunday, April 7, 2013. He succumbed following a protracted battle with cancer, but he was surrounded by his children and very much at peace in his last months.
Wann's lifelong fascination with fossils spans nearly nine decades of tangible, uninterrupted accomplishment, leaving an example that few of us can even hope to approach. His influence on the field of vertebrate paleontology undoubtedly will be felt keenly by generations to come. Two-dozen fossil vertebrate species have been named in his honor.
From the age of four, Wann was captivated by ancient life, and he spent his childhood in the pursuit of bones, by sketching exhibits and by reconstructing vertebrate skeletons in clay. At that time his father, Wann Langston, Sr., was Dean of the University of Oklahoma Medical School. As Wann Jr. later explained, "I became a fixture in that gross anatomy lab at such an early age that my behavior would surely have discomfited both my father and his superiors had they known what was going on. But it was to my everlasting benefit that I got away with it. And I often reflect on how lucky I was that I didn't get my father into trouble." He spent his formative years visiting natural history museums across the country and while still in his teens he met many of the most influential paleontologists of the century.
As a volunteer in the University of Oklahoma paleontology laboratory, Wann quickly became an unsurpassed expert in all things associated with preparing fossils. His natural gifts and talent in preparation earned him an invitation to participate in his first scientific collecting trip. At the age of 17, Wann joined a team from OU, led by Donald Savage, into the rugged deserts of the Big Bend of the Rio Grande, now home to Big Bend National Park. On this trip, Wann also met Barnum Brown whose crew was representing the American Museum in this early bone-rush into Trans-Pecos Texas. It was the trip on which Barnum Brown discovered the first scraps of the giant crocodilian Deinosuchus. And for his efforts, Wann found the better part of a ceratopsian skeleton. Late in life, in his dry cadence and utterly characteristic intonation he reflected, "not a bad first field trip."
After graduating with a B.S. in geology from the University of Oklahoma, he served in the United States Navy, returning to the University of Oklahoma at the end of World War II for an M.S. supervised by Dr. J. Willis Stovall. After teaching for a few years at Texas Technological College, in Lubbock, Texas, Wann entered the Ph.D. program at the University of California, Berkeley to study the Early Permian amphibians of northern New Mexico under the supervision of Dr. Charles Camp, completing his degree in 1952. Wann remained there as a lecturer and Chief Preparator for two years, working closely with his life-long friend Samuel P. Welles on such projects as the first reconstruction of Dilophosaurus. While at Berkeley, Wann also married his wife Marietta Evans and started a family along with his career.  The two had met back at the University of Oklahoma where she was teaching freshman geology labs. Their marriage lasted 60 years, until Marietta's death just a few weeks ago.  Wann and Marietta are survived by daughters Karen and Sandra, and two grandchildren.
In 1954, Dr. and Mrs. Langston, with infant daughter Karen in tow, then moved to Ottawa where Wann assumed the position of Curator of Vertebrate Paleontology at the National Museum of Canada. Three years later, daughter Sandra was born. He spent the summer months collecting specimens in the western Canadian plains and on Prince Edward Island.
In 1963, the family trekked to The University of Texas at Austin, where Prof. Langston spent the next 50 years contributing to the world's knowledge of fossil reptiles. He served as director of the Vertebrate Paleontology Laboratory at UT from 1969 to 1986. His research spanned many groups of animals, and he is widely known for his work on North American dinosaurs, Permian amphibians, and North and South American crocodilians. Dr. Langston's fieldwork continued to expand the collections at UT far past his retirement in 1986.  After his retirement, he was responsible for reconstructing the skeleton of the giant pterosaur Quetzalcoatlus.  His final work was a masterful and accurate reconstruction of the 6-foot long skull of Deinosuchus, which brought his career into full circle.
Among his many honors is the Romer-Simpson Medal, which was awarded to him by the Society of Vertebrate Paleontology in 2007.  For those of you who missed that event, Wann read aloud an email from one of his daughters who asked if perhaps her father had made a typographical error in his note to her regarding yet another accolade, and if he was instead being awarded the Homer Simpson Medal. In true form, Wann then told the audience that having personally known Al Romer and George Simpson, a Homer Simpson medal was more fitting to his particular accomplishments. Of course, nothing could be further from the truth.
Prof. Langston's paleontological legacy is vast and diverse. It consists of field collections, skeletal reconstructions, an unparalleled personal library, and over 100 publications, as well as innumerable students and colleagues that have been touched by his knowledge and skills. Specimens that he collected or mounted can be viewed at the Texas Memorial Museum in Austin, the Perot Museum of Nature and Science in Dallas, the Houston Museum of Natural Science, the Museum of Texas Tech University, Big Bend National Park, among many others institutions around the United States and around the world.
Dr. Langston also masqueraded as a tightwad, while donating among the most significant gifts made by any single individual to endowments in the SVP, the Webb School, and to the University of Texas.  The fruits of his mind and labor and the exceptional measure of his philanthropy ensure that Wann Langston Jr. will be known and remembered so long as the enterprise of paleontology carries on.
A celebration of his life was held on Sunday, May 5 in the Jackson Geological Sciences Building. More details.
[Editor's Note: Another excellent biography, "Wann Langston, Jr. – A Life Amongst Bones," was written by Christopher Bell, Matthew Brown, Mary Dawson and Ernest Lundelius, Jr. and is set to be published this fall as part of a special edition of the journal Earth and Environmental Science Transactions of the Royal Society of Edinburgh honoring Langston's legacy. The biography is available online at: http://bit.ly/1eH1A2E ]
by Tim Rowe, director of the Vertebrate Paleontology Laboratory at the University of Texas at Austin