Alumnus Creates "Generation Anthropocene" Podcast
October 29, 2012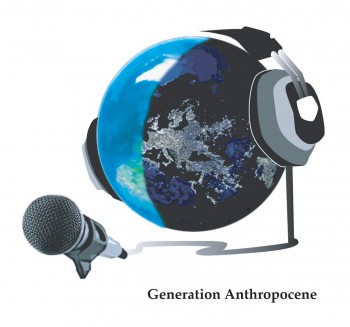 As a PhD student in isotope geochemistry at Stanford University, Mike Osborne (BS '07) found himself working alone in the lab a lot. He spent a lot of time listening to podcasts such as This American Life, Fresh Air, and WTF, becoming a self-described "audio junkie." A career counselor told him he should start his own podcast, essentially a radio show distributed to subscribers over the Internet rather than over the airwaves. When it came time to teach a class on communicating environmental research, he tasked the students with interviewing experts and creating episodes for a group podcast.
"I like project based classes," he says. "I like having something to show from it, the mix of individual and group investment. The sum is always greater than the individual parts."
For a theme, he asked the students to explore the concept of the Anthropocene, the notion that humans have now altered the planet to such an extent that a geologist millions of years from now would recognize this as a new geologic epoch. It's a concept rooted in the geosciences, but it intersects history, anthropology, ecology, and evolutionary biology. Not everyone agrees we have become a global and durable force of nature. And even if you buy the idea, where do you place the start of the Anthropocene? Is it when we began using fire to convert forests to grasslands? Or when we began favoring certain plants and animals over others at the dawn of agriculture? Is it when we began burning fossil fuels on a scale large enough to alter climate?
Students brought 14 professors and researchers into the studios of Stanford University's radio station KZSU and recorded their thoughts on the Anthropocene debate. Osborne, who defends his PhD dissertation next spring, says two of the project's big strengths are that it cuts a wide swath across traditional academic disciplines and that it fosters intergenerational dialogue.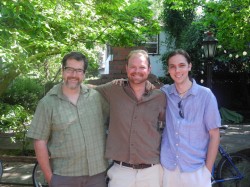 "For the students, it's an opportunity to have a conversation with anyone of their choice," he says. "It's intimate. It's a rare opportunity for an undergrad to trap them in the room and ask anything they want."
The first episode of the Generation Anthropocene podcast—a one-hour smorgasbord of interview highlights—was posted online last spring. Since then, a new episode featuring a single expert has been distributed each week. Early on, environmental website Grist began reposting the weekly episodes. Since the class ended and the initial 14 episodes have aired, Osborne and his co-producers Miles Traer and Thomas Hayden have continued recording interviews and posting new episodes.
Osborne and his co-producers have been invited to give a presentation on the project this December at the annual meeting of the American Geophysical Union. Ultimately, he'd like to see the concept expand to other university campuses across the country.
"At every academic institution, there's a great concentration of conversations going on every day," he says, "and what we're doing is casting a butterfly net to capture some of them."
You can subscribe to the podcast through iTunes or listen to individual shows on the Generation Anthropocene website: http://www.stanford.edu/group/anthropocene/