Oil and Water: Passion for Energy, Climate, and Water Unites at EER
March 1, 2010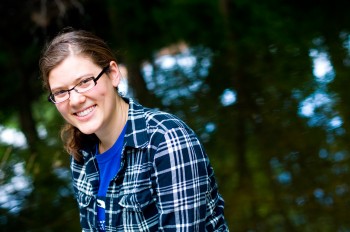 As an undergraduate at Stanford University, Emily Grubert discovered her passion in studying climate change and energy. She also discovered that the deeper she gets into the work, the broader it becomes.
"I look at climate change and because energy is important to climate change I look at energy," she said, "and then because land use and water are important aspects of the energy question, I look at those too."
Working on her undergraduate thesis last year, Grubert ran across a paper by Michael Webber related to water use for transportation fuels. She struck up an email conversation with Webber, associate director of the Center for International Energy and Environmental Policy, and he suggested that she come to Texas for graduate school. After all, they both shared an interest in the connections between water and energy.
Grubert is now a master's student in the Energy and Earth Resources (EER) graduate program at the Jackson School of Geosciences. EER prepares students for analytical and leadership positions in resource-related fields through training in engineering, geoscience, business, law and policy.
"I was highly motivated by the prospect of working with Michael," she said. "I was also attracted to UT because of its strong programs in traditional energy issues. It's difficult to appropriately study renewable energy and climate change issues without a strong understanding of and feel for the existing energy system."
Grubert feels that some types of renewable energy may help society use water more sustainably and tackle climate change. One key challenge in boosting the proportion of renewable energy in our nation's electric power mix is the amount of changes that will be required to our infrastructure. Because of that, she said "proximity to Texas' unique electricity grid structure and those who study and design it was intriguing." While most electric power in the U.S. is distributed over one of two regional power grids—the Eastern Interconnection and the Western Interconnection—Texas operates its own separate power grid.
In addition to renewable energy, Grubert is interested in water issues. Her master's research focuses on the water system in Maui, Hawaii. Like most inhabited parts of the world, Hawaii's water system is increasingly stressed by a growing population and climate change. The Ulupono Initiative, a group promoting sustainability in Hawaii, asked Webber and Grubert to develop a computer model of water flows in Maui and then use the model to evaluate how different types of land use affect the water system.
"What we're trying to do is take this patch of land, owned by this institute we're working with, and see what happens to the water system if you plant it full of biofuel crops or if you start farming cattle or growing carrots or if you put a hotel on it," said Grubert. "They're trying to make a choice that's sustainably focused and they want to make a decision that's not bad for the water."
Eventually, the goal is to create a model that could be used across all of Hawaii.
Grubert said the customizability of the EER program made it a good fit for her.
"Being a female environmental engineer from northern California and then walking up to people and saying hi, I know something about oil, no one takes you seriously," she laughed. "But on the other hand, I didn't want to go the full route of becoming a petroleum engineer."
She said she especially values the interdisciplinary aspect of the EER program.
"The great thing about EER is that I have the freedom to go take classes in different departments," she said. "You don't have to take classes on how to engineer drilling mud."
Instead, she's taken classes in public policy, electric power markets, the nuclear fuel cycle, and even glaciology.
"You can take practically any class as long as you can demonstrate that it's relevant," she said.
Grubert received one of 12 Harrington Fellowships, which paid her tuition and living expenses for a year. The Donald D. Harrington Fellows Program is one of the most well-endowed visiting scholar and graduate fellow programs in the nation, and the most prestigious fellowship program at The University of Texas at Austin. It was designed to "support gifted and ambitious scholars, who would, in turn, share their knowledge and success with future generations."
Postscript: Grubert graduated with an M.A. in EER in August 2010. After that, she entered UT's Cockrell School of Engineering for an M.S. in environmental and water resources engineering. Ultimately, she hopes to teach interdisciplinary courses in resource management and sustainability at the university level.