Summer Rain: Kerry Cook's Climate Research in Africa and the America
October 23, 2008
The insights that Kerry Cook gains from her research can be applied to help people better manage water resources, including the mitigation of the effects of floods and droughts.
The Jackson School of Geosciences' programs in climate research and education will benefit tremendously from several new high profile faculty and researchers including Kerry Cook.
Her research focuses on how Earth's surface structures—including topography, water, soil, vegetation, geology and human development—affect atmospheric circulation and precipitation and how those impacts in turn affect surface structures. She studies these interactions using regional climate models, concentrating primarily on Africa and the Americas. The insights she gains can be applied to help people better manage water resources, including the mitigation of the effects of floods and droughts.
In a recent study, she projected that, as a result of climate change driven by a "business-as-usual" carbon dioxide emissions scenario, the Amazon rainforest will die back by 70 percent by the end of the century. As Earth warms, she discovered, annual monsoons will begin later, effectively shortening the wet season and lengthening the dry season.
"In our simulations, the dry season becomes so long that the Amazon rain forest vegetation can't make it through," she says.
Cook received her Ph.D. in atmospheric sciences from North Carolina State University in Raleigh. She was a postdoctoral research associate at Oak Ridge National Laboratory and spent six years as a researcher at the Geophysical Fluid Dynamics Laboratory at Princeton University. Most recently, she was a professor and director of graduate studies in the Department of Earth and Atmospheric Sciences at Cornell University.
Cook served as Cornell's representative to the University Corporation for Atmospheric Research (UCAR), a nonprofit consortium of research universities that promotes collaboration in atmospheric and climatic research. Among other things, UCAR manages one of the world's leading climate research institutions, the National Center for Atmospheric Research (NCAR). She was recently elected to the UCAR Board of Trustees and will continue to serve in that capacity after her move to Austin.
New Graduate Program
Cook begins her appointment as professor in the Jackson School this semester. An accomplished researcher, she is equally passionate about education.
Her first task will be to establish a new graduate studies program in Climate Systems Science. As the program's first director, she will develop a new curriculum in collaboration with current Jackson School climate faculty and researchers such as Jay Banner, Liang Yang, Charles Jackson and Terry Quinn, as well as other incoming faculty and researchers including Robert Dickinson and Rong Fu from the Georgia Institute of Technology. The program will attract top climate science graduate students from around the world to the Jackson School.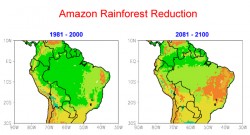 "I'm very excited about the opportunity to put together a program in climate systems science from scratch," she says. She notes that because climate change is such a hot topic, other universities are modifying their existing geoscience programs to include it. "In the Jackson School, because of the growth, we have an opportunity to sit down and think from square one how to make a flagship program," she adds.
At Cornell, she led the development of an undergraduate major in the Science of Earth Systems, and served as its first director. She stresses that she is not coming to the Jackson School with a set agenda for the new program. Instead, she plans to sit down with members of the school to find out what kind of program will compliment and enhance existing programs.
Cook also pointed out that climate systems science covers a lot of territory. It involves the entire Earth and has strong connections to biological, geological and human systems. The challenge for the new program will be to walk a tightrope between breadth and depth.
"We can't turn out people who are jacks of all trade and masters of none—but at the same time, we need to have students who can communicate across disciplines and work very effectively," she says. "They will need to be able to both work in a focused area at the forefront of knowledge and also connect to the big picture."
The program is expected to begin in fall 2009.
Africa
In addition to her commitment to teaching and fostering new scientists, Cook is actively involved in several research projects. One major interest involves the West African monsoon system.
People living throughout West Africa, including those in the Sahel, a semi-arid region south of the Sahara Desert, depend heavily on the annual monsoons from May to September. Cook's research encompasses all aspects of this monsoon system, including the dynamics of monsoon onset and monsoon breaks, and how the system may change in the future.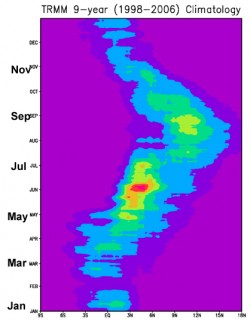 Monsoon onset over West Africa is particularly intriguing. When the rains begin in May, the monsoon tends to sit and dump precipitation over the Guinean coast region, where the continent bulges out into the Atlantic.
"Then all at once, over just a few days, the strong rainfall jumps into the interior," she says. "The rain gets up to the Sahel which is very marginal for agriculture. They're very dependant on that rain."
This phenomenon is known as the West African Monsoon Jump. Predicting this jump, which is also the onset of the rainy reason in the Sahel, is of primary interest for farming and managing the region's water resources.
"People plan for it by watering crops differently or postponing planting or planting different crops," she says. "Weather prediction on one week to 10 day time scales is very valuable for agricultural planning. We try to understand the basic physics, we don't do the predictions currently, but we want to develop advanced understanding so models can be improved."
Cook also studies the African Humid Period, about 8,000 years ago, when the Sahara Desert was vegetated. Cook notes that, "This time period is particularly fascinating because the geological evidence indicates that the climate of northern Africa changed rapidly from a desert state during the Last Glacial, to a vegetated state with large sustained lakes, and then back rapidly to today's desert state." The fact that the climate in this region can change abruptly is of concern for the future, and Cook has a new grant from the Department of Energy to study the dynamics of abrupt climate change in this region, and also in the Central U.S.
"I wanted to work on climate and atmospheric science problems that affect people," she says. "These are life and death issues related to weather and climate in Africa. This is the place where drought affects the most people, so it really matters to improve the science."
Great Plains
Developed countries, such as the U.S., are not immune to fickle climate.
The Great Plains Low Level Jet is a summertime circulation pattern that carries moisture from the Gulf of Mexico up into the Great Plains. It's critical for agriculture in the central U.S. because it brings most of the region's summertime rainfall.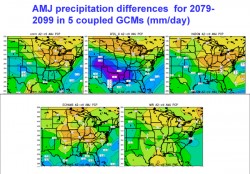 At Cornell, an undergraduate economics major asked Cook to work with him on his senior honors thesis to evaluate the impact of climate change on Midwest agriculture and economics. They reviewed the global climate model simulations from the 2007 climate assessment by the Intergovernmental Panel on Climate Change, an international organization of scientists that periodically assesses the state of knowledge on climate change. The global climate models predicted that the jet will intensify in the spring months as Earth warms. This is expected to bring heavier rains to the northern Great Plains and less rain to the southern Great Plains during April, May, and June. While not necessarily good news for Texas, that should make farmers in the northern Great Plains happier, right?
"It might actually be worse for the northern Great Plains becuase it could mean more flooding and more intense storm events," says Cook. "When they get bad flooding in the central U.S., like the floods in 1993, it's this jet that gets more intense."
Cook refers to the Great Midwest Flood of 1993, at the time the most devastating flood in modern U.S. history. Following a typically rainy spring in which soils were already saturated and rivers hovered near flood stage, unusually heavy rains persisted throughout the summer causing rivers to overtop their banks and levees to fail. Centered on Iowa, the deluge covered parts of nine states, caused more than $15 billion in damages and damaged or destroyed 50,000 homes.
Although not as widespread or severe, Midwest floods this past spring and summer were a vivid reminder of the importance of the ability to predict regional climate trends.
"It is important to advance our climate models to accurately simulate climate change on regional space scales, since these are the space scales important for impacts assessment and because many of the interactions between the atmospheric circulation and precipitation occur on smaller space scales," she says. "Something we'll work on in Austin is developing higher resolution models so we can understand if intensification of the jet will actually mean more rainfall and flooding."
Other active projects in Cook's research group include understanding how African easterly waves develop into Atlantic hurricanes and the impact that plumes of relatively cool, fresh water from the Amazon and Orinoco Rivers into the Atlantic have on climate.
For more information about the Jackson School contact J.B. Bird at jbird@jsg.utexas.edu, 512-232-9623.